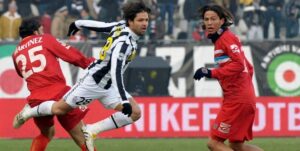 Juventus still haven't given up on their hopes of reaching the 4th spot in Seria A which would allow them to enter the Champions League qualification stages next season, even though they are 6 points behind with just 3 rounds remaining in the Calcio.
Here is what their head coach Alberto Zaccheroni said in front of l Corriere dello Sport: "I hope that Juve continue to do what has been done in the last few games, which started with Cagliari but also continued against Inter where, although we lost, the performance was positive Then it improved further against Bari. I expect, therefore, even more improvement. We are coming up against a team who are preparing for the game as well as possible. They went into ritiro, there is a press silence and there is great focus. When they play at home, Catania express themselves at their best level."
Catania still need a few points to guarantee their existence in Seria A next season so they will be fired up for this contest and with players like the Argentine Maxi Lopez, Izco, Carboni, Ledesma, and Mascara, you can be certain that they will case plenty of troubles to the already shaky Juve side.
As a matter of fact, Catania won in the first half of the season against Juventus in Torino 1-2! Thus, they will certainly fancy their chances of recording another upset today. They lost their last fixture against Livorno 3-1, but the Sicilians have turned into one of the most impressive underdogs in the Italian top flight this season as they also managed to beat champions Inter 3-1 about a month ago!
BetOnWins Free Betting Tip: Catania will score at least once today, but perhaps Juve will win. Anyway, Juventus have not a Goal/Goal game for 4 matches in a row so it's a guarantee they will have one today! Bet on Goal/Goal!