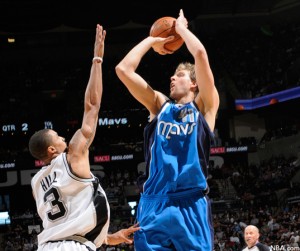 Dallas Mavericks are on the bring of elimination as they are 3-1 down in these best of 7 series against San Antonio Spurs. It's a serious upset for the Mavs as they ended the regular season way ahead of the team that's about to eliminate them from the 1st round of the Playoffs. Mavs finished 2nd in the regular season while the Spurs were 7th, so a lot people expected Dallas to go all the way in this year's Post Season and be a serious title contender. That however has turned out not to be the case as they will go down in the first round if they fail to win tonight's game against the Spurs.
That's why the Mavs will be incredibly motivated for the win here and considering how dramatically they lost Game 4 after leading by as many as 10 points at half time break. They will be looking for a solid performance at their own building supported by over 20,000 mad Mavs fans.Nowitzki, Jason Terry and Jason Kidd will be fired up for this contest.
Here is the official NBA Game 5 preview:
BetOnWins Prediction: Dallas won't let the Spurs get away that easily and they will surely Win their home game tonight. Spurs have won't three consecutive games in the series so it's about time they lose.