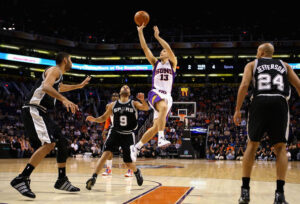 Familiar foes meet once again as the Phoenix Suns take on the San Antonio Spurs tonight in Arizona. It promises to be an extremely tight and competitive series that could go all the way to Game 7. The rivalry between those two sides dates back to 2003 and the most interesting fact is that the Suns have eliminated Spurs just once in 5 attempts and it was with Tim Duncan out with an injury.
Ain't no Sunshine when the Spurs come to town. Fans of the Suns have had their heart broken over and over again and perhaps it's about time for this to change. This time around, the Suns are the 3rd seeded team in the Western Conference while San Antonio are 7th so the potential Game 7 will be played in Phoenix.
Suns will have a lot of tasks to deal with tonight. The first problem for them would be to stop Manu Ginobili. Second task is to defend Tim Duncan. Third task is to handle Tony Parker. Fourth task is to deal with the emerging George Hill. Fifth problem is to cope with the X-factors in the Spurs team in the likes of Richard Jefferson, Antonio McDyess, and DeJuan Blair who are capable of having a great night when you least expect them to. So it will be a very though challenge ahead of the home side. However, the bookies are seeing them as favorites to win this game, mainly because of their better regular season record and the fact they are playing at home. And yet, we have seen that in the postseason, those things don't matter that much.
Suns rely heavily on the performances of their three star players – Steve Nash, Jason Richardson and Amar'e Stoudemire. If they come out strong in Game 1, then they should be able to just clinch the win. One thing that has to be noted though is that Steve Nash is 36 years old now so you can't expect him to carry the entire team on his shoulders. Yet he still posted an average of 15.0 PPG and 9.8 APG in round 1 against Portland so we can say he is in good form right now.
BetOnWins NBA Predictions: It will certainly be a dramatic Game 1 in Phoenix that will be decided in the final minutes of the game. The bookies offer odds of 1.54 for the Suns while the Spurs are at 2.65 on Money Line. Without a doubt, the Spurs look like the VALUE bet here!