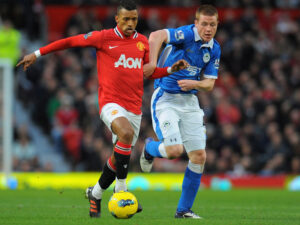 We have the most accurate football predictions in store for you today, and it all revolves around are favourite leagues. United have a tricky away game against Wigan, while City look certain to bounce back and finally get all three points. In Italy, Juve will have to fight back for their top spot by defeating none other than Lazio, so there are a lot of questions marks there as well. The Bundesliga is also bringing us the biggest derbie of all, a real title decider as Borussia Dortmund host Bayern Munich!
The Buck Stops Here
A lot of folks, online punters and bookies included, are heavily favoring United to easily get all three points here. And that's understandable given the history between those two teams – 14 wins for the Red Devils from 14 matches! Wigan have never managed to get even a single point against this opponent, and that's quite a stat.
Bottom line is this – Wigan can get something out of this game. They are now playing with a renewed sense of confidence. Don't forget they defeated Liverpool at Anfield about a month ago. Furthermore, things have been going just too much in United's way, refeering decisions included. It's about time for someone to cut them off a little bit.
The odds are certainly stacked against Wigan, but that's where the betting value comes from. The draw here is available at 4.50, which is quite good. United have won 8 straight league games. They've also won all their games agaisnt Wigan. It's about time for these two runs to end. The buck stops here, and our prediction is that United will be dropping points tonight. Obviously, a win for Wigan is hard to imagine, so the draw is what we are going for.
Anyone who watched the Premierleague last weekend, know that Wigan were harshly damaged by poor refereeing decisions, while United benefited hugely from such. United's first goal came after an obvious offside, and the linesman was right there seeing it, yet he didn't used his flag, and not only did United got a penalty but also saw QPR's defender sent off with a red card. So it was 1-0 in the 10th minute, and QPR down to 10 men, the match was practically decided a ref mistake. Meanwhile, Wigan had a great game against Chelsea only to see their efforts vanished by the refs again. Chelsea's first goal was from offside as well. Still, Wigan continued to fight hard and reached the draw with an amazing goal by Diame. The Juan Mata struck in stoppaga time, again from OFFSIDE.
Naturally, Martinez (the Wigan manager) was upset: "We were relying on good decisions, but the linesman has had a disgusting performance. If I speak with them [the officials], it will be a waste of time. Today, my players were robbed and they do not deserve this result. We've got it back to 1-1 and then in the 92nd minute there's another shocking decision. Unfortunately, we can't control it. The linesman had a shocking day. "We have had too many times this season when it's not about matter of opinions, it's about clear calls that have been against us."
Betting Verdict: Draw @ 4.50