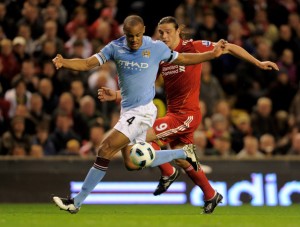 Today's best football betting parlayt comes from the depths of the English game. One is the Carling Cup semifinal between Man City and Liverpool and the other one is an EPL fixture between Tottenham and Everton. Not bad for a regular Wednesday night. As always, we try to serve as your source of the best sports betting tips online.
Manchester City v Liverpool Prediction, Carling Cup Semi
We are going to give it to you straight. Liverpool have not won a trophy of any kind for over 5 years now, and that's simply too much time for a club of their stature and given the millions of followers they have worldwide. Carling Cup might be the least reputable trophy of all in the English club football scene, but it's still better than nothing and for the Reds that's their best shot at winning silverware this season. The scene has been set in such way that Pool will be in a good position to eiliminate City in this tie. Let's just make it clear that there will be two legs, with the return at Anfield.
In terms of making the most accurate football match predictions, we have to account for the available squads. Manchester City enter this game with problems at the back. They will be without the Toure brothers, and their best defender and team captain Kompany got sent off in their last match (2-3 loss to United in FA Cup), so he misses out this one. Mancini will be forced to field the inexperienced Savic in the starting lineup to partner Lescott. Another major selection headache for the Italian coach is that his best player David Silva is currently nursing an ankle injury, and according to doctors he will be unavailable for the next two weeks. To top it all up, the team's leading goal scorer Aguero is expected to be benched for this game.
So in the light of our Man City v Liverpool prediction for the Carling Cup, there is no denying that the scene has been set for the Reds to qualify for the final and win that trophy. A draw is the most likely end result here, as a win at the Etihad is never easy, and there is a return leg at Anfield. But in our top football betting parlay for the day, we recommend the Goal/Goal option at 1.83.
Betting Verdict: Goal/Goal @ 1.83

Tottenham v Everton Prediction, EPL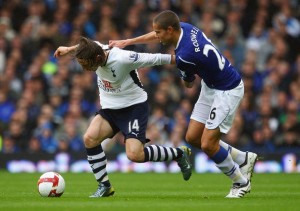 Tottenham face Everton in the Premier League tonight, looking to get even on points with second placed Manchester United (45) should they win this one. The game was originally scheduled for the opening day of the season, but the riots in London on that particular date, caused the English FA to postpone it. Again, we are going to be clear right from the start, and our betting expertise for this game is for an open one with plenty of goals in it. Tottenham will be without key central defenders Ledley King and Gallas, and that should allow Everton to get on the scoresheet. Scott Paker is also unlikely to feature for Harry Rednknapp. Other midfieilders that will miss out for the Londoners are Huddlestone and Sandro.
Everton have won three of their last five league games at White Hart Lane, while their manager David Moyes only has 3 defeats in the 13 times he has played against sides managed by Harry Redknapp, so the Toffees look capable of snatching something from this game, at least from a statistical point of view. Moyes also has injuries to deal with as he will be missing the services of Jagielka, Hibbert, young midfield pair of Barkley and Rodwell. Nonetheless, we expect to score at least a goal here.
Betting Verdict: Goal/Goal @ 1.90
Betting Parlay:

Man City v Liverpool Goal/Goal @ 1.83
Tottenham v Everton Goal/Goal @ 1.90
Total on Parlay: 3.50