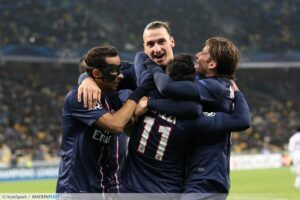 The top Champions League prediction for February 12th is on the game between Valencia v PSG. The world's best club football competition resumes for the first time in 2013, and a number of ties intrigue the fans. Besides today's clash, other noticeable fixtures are Real v United, Arsenal v Bayern and Milan v Barcelona. Paris has once again turned into a center of attention in football as a result of all the Arab Money poured in over the summer similar to what Man City pulled off in England a year ago albeit their current struggles. However, Valencia has always been a special team in the Champions League over the years, known for producing good results in big games like that. Our Valencia v PSG prediction gives a great betting pick.
With all their firepower up front, Paris Saint Germain have immediately turned into a force to be reckoned with in Europe. The formula is well known – buy some of the best strikers in the world, put some of the top midfielders behind them and you've got yourselves a winning team. Money does just about everything these days whether we like it or not. Zlatan Ibrahimovic is quite similar to PSG's current philosophy in that regard; no club loyalty, plays for whoever pays him the most, seriously self-centered and egoistic, but you can't deny him his incredible qualities as a striker.
Zlatan has played 21 games for PSG in the league and has just as many goals. He has been scoring goals on a regular basis throughout his entire career, regardless of club or league, but his critics have always pointed out the fact that he has never managed to establish himself as one of the best in the Champions League. So far in his career, he's never had a really great game in the Champions League and he has often faded away in such big European games.
Ibrahimovic's performance would be crucial for the most accurate Valencia v PSG prediction on February 12th. PSG would be aiming to at least score a goal or two in Spain to put themselves in the driving seat going into the second tie and it's pretty obvious that Ibra would have to be seriously involved in order for that to happen. Not surprisingly, he is the main favorite for the First Goalscorer in the game at the odds of 4.33. Valencia's main threat Roberto Soldado is next at 5.00.
In terms of the favorite in this Valencia v PSG prediction, the online bookmaking companies such as bet365 view the Parisians as strong favorites to go through, but view them as underdogs in this particular game giving lucrative odds of 3.30 for their win.
Betting Verdict: To get our betting pick for this game, register here.