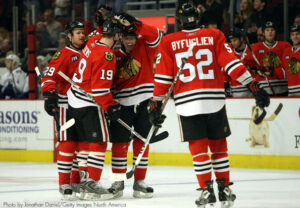 In the 2010 Stanley Cup Conference Semifinals, Canucks host the Blackhawks in Vancouver with the series being 3-2 in favor of the Chicago side. The Blackhawks need a big win tonight and they certainly know how to achieve it as they've already had some success there this season. The Hawks are indeed 4-1 in the playoffs at the GM Place since last season.
Chicago Blackhawks are just one win away from reaching the Conference Finals and they will certainly treat this affair as a Game 7, as they wasted a chance of closing the series in Game 5 in Chicago. Here is what their captain Jonathan Toews had to say about his team's recent success in Vancouver: "ou can speculate that coming to this city makes us play well, but I just think it's a coincidental thing. Whatever it is, I just hope it keeps up that way."
The Canucks might be without defenseman Sami Salo which would mean they will practically be down to only five NHL defensemen.
Chicago Blackhawks v Vancouver Canucks, Game 6 Prediction: The Blackhawks to have another memorable night in Vancouver and close the series 4-2. Bet On  Blackhawks to win away as bet365 offers odds of 2.15 for them on Money Line.