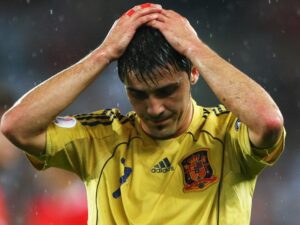 This is the most accurate  Scotland v Spain prediction you will find on the entire Internet. Spain have to deal with some important absentees in their squad against a rough and though Scottish team that is coming off a defeat against Czech in their previous match.
Scotland's head coach Craig Levein labeled Spain as "the best team that Scotland have ever played", but still remain optimistic ahead of this big match. But what we have to make clear is that La Furia have some issues going into this encounter. Fist of all, they will be without their inspirational midfielder Xavi who is basically the brains of their attacking operations making all the decisive passes to the forwards. Cesc Fabregas will also miss the match as he has been out with an injury for the last couple of weeks. Another big loss for Spain is Fernando Torres who is also out with a health problem. So three of La Roja's biggest stars are out of this encounter.
Scotland on the other hand are always a though team to beat especially when playing in Glasgow. They are religiously supported by a jam packed stadium filled with some of the loudest football fans in the world. Scottish players take real pride in their game and will play their lungs out against the current World Champions. That's why our Scotland v Spain prediction is for a Draw!
Right back Alan Hutton is in question as he is currently suffering from a groin strain so Phil Bradsley could take his place in the starting lineup. Manchester United's Darren Fletcher is captain of Scotland and he has shaken off a knee knock so he will feature from the start. These are all important facts for our Scotland v Spain prediction.
The most accurate Scotland v Spain prediction is that the home side will play a cautious game sitting at the back and relying on counter attacks. They play very hard and will throw some hard challenges on the more technical Spanish players. Thus, in terms of the total goals we expect Under 2,5 at 1,75!
Spain forward Santi Cazorla expects a tricky match and had the following words to say in the interview going to Glasgow: "We know we will be playing in front of very passionate fans on Tuesday but we are going with the intention of taking three points. Scotland will most likely play quite tight at the back and look to hit us on the break. It will be a physically tough battle."
Scotland v Spain Prediction: It's going to be a physical affair in which these two nations will split the points. Scotland will make a reputable point against the World Champions while La Roja will keep their place at the top.
To get our top picks everyday, sign up for our 7-days betting pack for just 5$ and we will give you an access password to check our special picks along with Email notification.