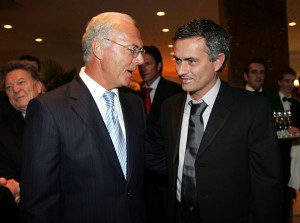 This is more than just a Bayern Munich v Real Madrid prediction, because it will be by no means a friendly match by two of the world's most successful football clubs. The even will be special because besides the great players involved in it, it will mark Franz Beckenbauer's farewell to Bayern Munich as he retires from his position of club president after 65 years.
Kaiser Franz didn't get a testimonial match when he ended his playing days for Bayern Munich 33 years ago. It was a sad thing not to have honored the club's most influential figure of all time, the man who modeled Bayern Munich into the industry it is today. Tonight, Beckenbauer will finally be treated as a royalty with Real Madrid being the opponent.
The main thing about this Bayern Munich v Real Madrid prediction is that it will be a match to honor Franz Beckenbauer as the legend officially steps away from the club. He was a club president till now and if it wasn't for him, Bayern would have never build the magnificent stadium they have now nor would they have players like Robben and Ribery in their squad. Beckenbauer was the man pulling all the strings at the Bavarian colos so it would be interesting to see how they manage without him.
But back to our Bayern Munich v Real Madrid prediction. It will be an amazing spectacle at a sold-out Alianz arena which means about 70,000 will be supporting the home side going completely crazy after being without club football for 2 months now. This crowd factor makes Bayern the favorites to lift the Beckenbauer trophy, even though online betting companies see the Spaniards as favorites (2,6 for Bayern against 2,3 for Real to win). The thing is that Bayern players will take this match much more seriously knowing they are entering the pitch to honor their club legend, while Real Madrid should play the role of the victim.
Another major element to consider in this Bayern Munich v Real Madrid prediction is of course the presence of Jose Mourinho. The funny thing about Jose is that he made his debut as Inter coach against Bayern Munich in the exact same Beckenbauer trophy 3 years ago (Inter won 1-0 thanks to a Mancini goal). Then he finished his career as Inter head coach with the Champions League final against Bayern won 2-0. And now, he starting to out as Real Madrid coach against Bayern Munich! I guess that's why the call him the Special One.
Bayern Munich v Real Madrid Prediction: the Bundesliga is about to restart next Friday so this match against Real represents the perfect opportunity for Van Gaal to see where his side is just a week before the season kicks off. At the same time, this will be a super special match because it's the farewell for Franz Beckenbauer. Real Madrid are the better side in terms of quality and have Jose in charge who doesn't like to lose even in friendlies so it will most likely end in a Draw. Then, Bayern Munich should make the Kaizer proud by winning on penalties to lift the trophy named after him.
Bayern Munich v Real Madrid Pick Draw @ 3,30
or
Bayern Munich v Real Madrid Pick Over 2,5 Goals