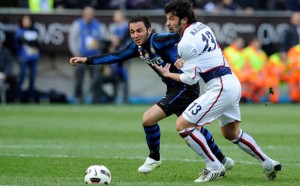 Our best betting tip for today comes from the Italian Seria A where in a game that was postponed because of the floodings in Genoa, the hosts are now taking on Inter. The Nerazzurri are having their worst season in years. And it's not like we didn't see it coming. Ever since Jose Mourinho departed, things have gone downwards for the club. Ranier has been desperately trying to stop the free fall ever since he took over, but without any consistency.
On November 27th, Inter won away at Sine thanks to a 90th minute goal. Then just when everyone though they were starting to make their way up in the league, they lost at home to Udinese 0:1. The next match was another home defeat, that time in the Champions League against CSKA Moscow. That game was actually fixed as the Russians needed the win in order to go through and they "miraculously" got it after Inter's defense slept out on a corner in the 87th minute. But that entire Champions League round was so scandalous that it should be the subject of a book or a crime movie. Fact of the matter is that Inter have by no means improved that much all of a sudden the 2:0 win against Fiorentina this last Sunday should not fool you.
The bottom line is that it's really risky business to lay money on Inter to win tonight. Bet365 offers odds of 2,30, but Genoa are a dangerous side. They have never won against Inter in 17 years now! Such negative trends are bound to end, and what better moment for them to beat Inter when their side is at their worst condition in years.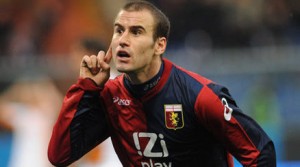 Genoa's latest result is also an indication that they are in good form and on their way up. They beat Siena away by 0:2 with goals from their key players Marco Rossi and ex-Boca Juniors forward Rodrigo Palacio. Sebastian Frey who started his goalkeep career about 15 years ago at Inter, is now protecting Genoa's goal line. Genoa have other impressive players like Veloso, Ze Eduardo, Mesto, and Jankovic.
Futhermore, it has been said that all ticket and TV rights incomes from this game will be donated to the victim of the Genoa flooding. So you can expect a jam packed stadium, with great atmosphere and that will greate a huge incentive for Genoa to attack and press forward. Inter did not concede against Fiorentina, and that's quite rare for them nowadays.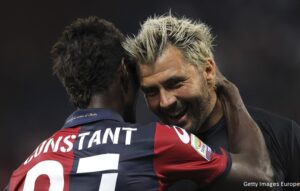 Coincidentally enough, Inter will also be missing some of their key defenders for that game. Inter will be without their starting left and right backs in the likes of Chivu and Maicon. Ranocchia who has actually been unconvicing all season will also miss the game. Of course, Zanetti will be placed at righ back after missing the last game due to a suspension for having his first red card in his career (!) in the loss against Udine. Nagatomo who was actually brought from Genoa should start at left back with the old and now slow couple of Lucio and Samuel at the center. Julio Cesar will be at goal.
But it's in the midfield where Inter are truly lacking quality. Ranieri has strangely decided not to include Sneijder even in the group for this match, even though the Dutch has been training with the first team for over a week now. This decision even spark a conflict with Moratti. Here is part of Ranier's interview for the club website: "In recent days president Moratti and I had talked about this, and I think that today when he spoke of Sneijder he was referring to the fact that in this particular moment not having the Dutchman – that is, not having a star player – can cause some worries. And then I was the one who decided to take it slowly in order to avoid him getting re-injured, to avoid speeding things up."
Forlan who had a worse injury will be on the bench. Back to the topic of Inter's uninspirational midfield. Sneijder is their only creative player, and the main reason for their historic treble success under Mourinho. Without him, this team is clueless in attack for the most part. Cambiasso is not someone who can construct the offensive game, quite the opposite. Dejan Stankovic, who is usually their most hearted and energetic player is also out. Thiago Motta, an ex-Genoa star is a quality player and should take the initiative for the Nerazzurri. Alvarez has been a disaponitment so far. Muntari has never been a creative type of player. Coutinho and Motta, both Brazilians by the way, are the only ones that can create chances for Inter against Genoa tonight.
Genoa v Inter Prediction: It won't be an easy match for Inter tonight. Actually, the betting value is on Genoa to finally get their first win against them in 17 years. They will be playing in front of a full stadium for the victims of the flooding, so that would be an extra incentive as well. The betting value is on Genoa to win this game at 3.10, with a score line of 2:1 to be exact (2:1 for Genoa @ 12.00), but the most accurate betting verdict for this game would be the Goal/Goal @ 1,83.
Betting Verdict: Goal/Goal @ 1,83