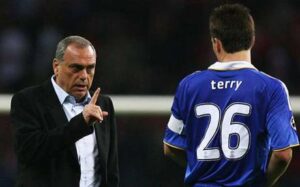 Chelsea taken on relegated Portsmouth in the FA Cup Final at Wembley this afternoon. Although everyone is backing Chelsea to blast past Pompy and win easily with several goals, our prediction is for a tighter game that could potentially turn into an absolute shocker.
There are a lot of interesting connections for this game as Portsmouth's head coach Avram Grant was in charge of Chelsea and lead them to their single Champions League final, lost against Man Utd on penalties. A lot of people considered his sacking by Abramovic as one of the Russian billionaire's biggest mistakes because although Grant might not be such a high profile coach with tens of trophies to his name, he still is one of the managers s in the game right now.
Had Pompy not been taken all these points because of their debt issues, the side would have survived in the Premier League and what they have to be congratulated on is the bravery and dignity in the way they ended the season even though they were already doomed for the Championship next season. Portsmouth deserve a lot of credit for their efforts this season and playing the final today gives them the opportunity to win the oldest trophy in club football – the FA Cup.
Chelsea v Portsmouth FA Cup Final Prediction: The Big Value here is to Bet On Portsmoth on FA Cup Outright Winners as bet365 offers 7.00 for that bet! Of course it's a wild bet that you can apply just to have the game more fun to watch but at the end, you might even chip in some great winnings! Surely, this is not among our safest football predictions for the day but it's a worth a try because it's a Final and in English football, Anything Can Happen!
But a wiser bet is to go for Pompy on Double Chance because the reality can set in during the Extra Time, while the odds on Avram's men not to lose the game in regular time are also extremely high, so our betting pick is:
Double Chance – Draw or Portsmouth @ 4.33
Again, keep in mind that this is a surprise type of football prediction so don't go all-in on it.