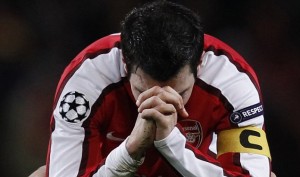 BetOnWins.com brings you today's top Champions League pick with this Arsenal v Barcelona prediction. These two clubs have formed quite an interesting affair as that's the third time in the last five years that they go head to head in Europe's prime football competition. First it was the Final in Paris back in 2006, in which the Gunners had the lead at Half Time but eventually lost 1-2 as they were man down since the 10th minute. Last season, both teams fought for a place in the semi-finals, the first leg ended 2-2 in London and Barca took an impressive 4-1 win in the second, with Messi scoring all four goals. So what's it going to be this time around? BetOnWins.com tries to answer that with this Arsenal v Barca prediction.
Bottom line is that Arsenal have suffered way too much against Barcelona and it's probably just about time for things to turn around. We are going to give it to you straight – our Arsenal v Barcelona prediction is for a win for the Gunners and that's definitely the best football betting tip you can get for today as Bet365 offers odds of 4,00 on them! The Spaniards are the favorites for obvious reasons, but that doesn't matter in big games like that. Arsenal are the type of team that can stand firm against Barca, as they share a similar style of play. They like to hold the ball, maintain posession for as much as possible and keep the ball on the ground rather than relying on crosses.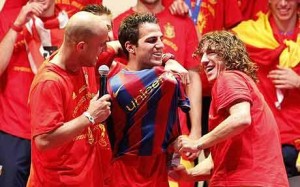 Of course, the biggest factor in this Arsenal v Barcelona prediction is Cesc Fabregas. That's the biggest intrique in this whole game and that's the reason why UEFA drew this two teams together once again, besides the fact that they play great football to watch. Last summer, Cesc was rumoured to be on his way back to Catalonia, but that didn't happen and he is still in London. But for how long? Xavi, Iniesta and all his other teammates in the national side are beggin him to come back to where he started as a kid, and he has publically expressed his desires to leave on more than one ocassion. Should Arsenal fail to win a major trophy once again this year, it will be almost impossible for the management to keep a hold of their brightest star. So this particular match is going to give a big indication on what's going to happen this summer with Cesc.
The most accurate Arsenal v Barca prediction is that Fabregas will have a major influence on the game and we can see him score a goal in this one. Bet365 offers 3,75 on Cesc to Score at Any Time and that's a really good pick. He will be eager to impress against tha Catalans, plus he takes all the penalties and most set pieces. There is definintely loads of value in this particular Champions League betting pick.
Arsenal v Barcelona prediction: Bottom line is that both teams have some of the most skilfull and atacking-minded players in the whole world and that's should setup a high scoring game with at least 3 goals in it. Our Arsenal v Barcelona prediction is a win for the Gunners and we also expect Cesc Fabregas to get on the scoresheet as well.
*All odds are courtesy of Bet365.com