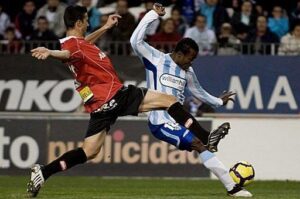 It's a very interesting game between two teams on the opposite sides of the La Liga table. Mallorca are fighting to earn a Champions League place while Malaga are ready to score at any time in order to survive in the Spanish top flight. On monday, Mallorca managed to beat Osasuna at home and home is where they are at their best.
Here is what head coach Manzano had to say on his team: "The Champions League depends on us. This team is showing this season, we're overcoming adversity in many ways, and in the fight for Europe. "We're dreaming of something nice, which has not been [the case] for a long time here, fighting for a Champions League place. The win strengthens us in that struggle and we depend on ourselves to succeed."
What's really interesting about Mallorca is that they don't have a draw at home all seasong long and we feel that might happen today as they meet a boogey Malaga team that's fighting for survival.
BetOnWins Prediction: Watch out for a draw here and it could even be a Mallorca/Draw or Malaga/Draw on a Half Time/Full Time bet.