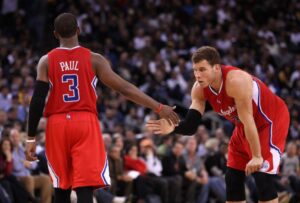 There is little doubt that the SA Spurs are the better team here, and will advance to the Western Conference Finals, where they will most likely meet the Thunder. However, the Clippers can still avoid humiliation by winning at least one of their home games this weekend. In our expertise, they should be able to win either the game tonight, or the one tomorrow, and the odds are quite good on that happening.
The Clipps are currently down 2-0 in these series, and knowing that no team in the history of the NBA has overturned a 3-0 deficit, they will approach this one as a Game 7. In other words, they will go "all out", in pure desperation mode with their backs against the wall. Such an approach is always good for any team. LA lost both games in San Antonio with a double digit margin, however, they had some really good spells, and Chris Paul was frankly playing some of his worst Playoff basketball ever, so knowing that he can't actually do any worse, the Clipps should improve dramatically.
Clippers' All-Star duo of CP3 and Blake Griffin seriously underperformed in the first two encounters. They "combined" for just 30 points and 10 turnovers on Thursday. Paul is the barometer of this team, and he is required to make big plays, get everyone else involved, set the tone early on, and make some big shots down the stretch. However, he had a terrible Game 1 when he made just 4/9 shots for a total of 10 points to go along with 8 turnovers! In Game 2, he was equally ineffective, in fact he was damaging his team as he gave the ball away six times! Meanwhile, Griffin managed to grab just one rebound!
It has been a known fact that both CP3 and Griffin are playing through injuries, but these are young guys that recover quickly and get better with each day. Here is what Paul said going into this game: "I think I just have to be more aggressive and find my legs a little earlier. I just need to be a little more aggressive, make better decisions and adjust to them keeping everybody in the paint. They are just making me find other guys and I need to make adjustments."
Betting Verdict: LA Clippers + 8.5 Points @ 1.55