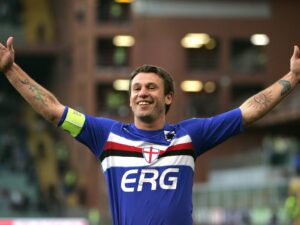 Roma are currently on a massive run of 24 consecutive games without a defeat in the Italian Seria A. As a matter of fact, they have NOT LOT  in the Calcio ever since Claudio Ranieri took over. They are of course holding their Scudetto hopes and destiny in their own hands in a sense they will surely be championsn should they manage to win all their games till the end of the season.
However, Roma faces a very difficult opponent on Sunday night in what  promises to be the best game of the entire round in Italy this weekend. It's no coincidence that the Calcio federation has scheduled this match as the late night game.
Both teams have eveyrthing to play for. While Roma are super motivate to win the Championship, Sampdoria players have high motives of their own as they will be looking to claim the 4th spot which gives rights to Champions League football next year. Samp are just 1 point behind Palermo who occupy the 4th spot after beating Milan.
Sampdoria are on a great run themselves as they have won their last three games in Seria A. With just 4 games remaining till the end of the season, every point matters right now.
Here are the probably linups:
AS Roma (4-3-1-2): Julio Sergio, Cassetti, Juan, Burdisso, Riise; Perrotta, Pizarro, De Rossi; Totti; Toni, Vucinic
Sampdoria (4-4-2): Storari, Zauri, Gastaldello, Lucchini, Ziegler; Semioli, Palombo, Poli, Guberti; Pazzini, Cassano
BetOnWins Prediction: AS Roma to drop points here. In fact, Samp haven't won at the Olimpico for 15 years now so you might want to lay some money on a straight away win here as online bookies are offering great odds for Samp going over 8.00! However, the more certain bet is a Handicap 0:1 for Sampdoria as they will either Draw or Win this fixture!