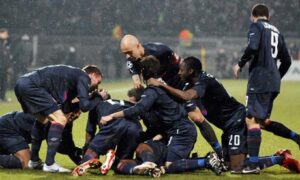 The first Champions League Finalist will be decided in this crucial game tonight. Lyon hosts Bayern Munich. What's certain is that the Germans will not have an easy ride in France, in fact the French side is already shaping up as the Dark Horse of the competition. They eliminated the All-mighty, star studded Real Madrid team! So it's going to be a well-balanced affair that might even go into Extra Time! All that's needed is for Lyon to win 1-0 which is quite realistic to say at least, and when you add the fact we are yet to see a game going into Extra Time this season, there you have it!
Bet365 is one of the few bookmakers to offer odds for Extra Time and you might want to look into them. Lyon or Bayern to win with Penalties is offered at 23.00! 26.00 are the odds for Lyon or Bayern to win with a goal in Extra Time so there is great value in those bets. If you decide to lay some money on Extra Time make sure you cover both teams because at that stage no one can possibly predict who will continue and it's a shame to miss out on extremely high odds like that.
But of course the more realistic approach is to bet on winner in regular time and BetOnWins favors Lyon to win this game for several reasons. Firs of all, they will be playing at front of their own supporters fully motivated to reach the Final at Bernabeu and make history for themselves.
The Bavarians have already had amazing luck and it's about time for Lady Luck to turn her back on them. They eliminated Fiorentina thanks to an incredible goal by Robben in the second leg and of course the referring mistakes in the first leg. Then they made an incredible comeback against Manchester United, once again with Fortuna on their side. Basically, Robben is the man carrying the entire Bayern Munich side on his back.
Lyon are much more of a team. A big factor working in favor of Olympique Lyonnais is that the French League re-scheduled their weekend game so they had 7 days to get ready for the most important game in their entire club history. They will be well rested whereas Bayern had to play against Gladbach during the weekend, a game which BetOnWins successfully predicted they will fail to win (ended 1-1).
Here is what their head coach said in an interview for Uefa.com before the game: "We cannot wait. We'll have to really concentrate [but] I'm confident we can beat any team in Europe. We're not worrying about our opponents. We know if Bayern have some injury problems, other good players will take their place. We have to play our own game, not like in the first leg."
The big absentee for Bayern is Franck Ribery who misses out because of the red card he got in the first game. Under question are also Martín Demichelis (calf), Daniel Van Buyten (calf), Diego Contento (leg), Miroslav Klose (illness).
BetOnWins Prediction: Lyon Will Win this game! Watch out for Extra Time.