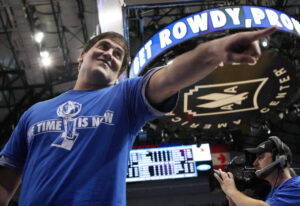 Our analysis of the 2011 NBA Finals between Miami and Dallas continues with Mark Cuban. This guy is a self-made billionaire that come out of practically nowhere to now own an entire basketball franchise and tens of other overachieving organizations. What's interesting in terms of NBA betting tips and picks is that ever since Cuban bought the club, they have had over 50 wins in the regular season, and that's 11 years straight! Prior to that, the Mavs were the biggest joke in the NBA setting records mainly for getting beat up. It has been a complete turnaround for this franchise ever since Cuban took over, and all that consistency has got to pay off eventually. This guy won't settle for second best. And if you think about, Dirk Nowitzki has also been one of the most consistent basketball players in the last decade too.
The Mavericks franchise are without a single title and they lost their only trip to the Finals exactly against Miami, so it's a really interesting moment here in terms of NBA predictions and tips. We are definitely looking forward to seeing a well prepared and super motivated Dallas team.
Perhaps the worst thing that could happen to a great NBA player is to end his career without a title. I mean at the end of day, what matters is whether you made it to the very top, at least once. And there are a lot of great players who had the misfortune to end without a ring. Charlsey Barkley, Reggie Miller, John Stockton and Karl Malone, Patrick Ewing, Chris Webber, Chris Mullin, Allen Iverson, are just few of those highly talented individuals that never won an NBA Championship.
There is no doubt that Jason Kidd and Dirk Nowitzki are great players. These two are future Hall of Famers, and yet they are also on the brink of going out without a title. This will be Kidd's third trip to the NBA Finals, but this time one would fee that he has a much better shot at it. The last two teams he led an average Nets team against Lakers with Kobe and Shaq, and then against San Antonio with two Two Towers (Duncan and Robinson). Not much he could've done there. Jason Kidd is 38 years old now, and despite his advanced age he is still playing tremendously profound and solid basketball. He is averaging 10 points and nearly 8 assists per game, which are still great numbers. He was drafted into the NBA way back in 1994, so he has 17 seasons under his belt, and yet no title to show for. An interesting fact is that he actually got drafted by the Dallas Mavericks to form the J's trio back then that consisted of Jamal Mashburn and Jim Jackson.
At the age of 33, it looks like Dirk Nowitzki is currently playing the best basketball of his career. He was the 9th pick in the 1998 NBA draft, when he got selected by the Bucks and immediately traded to the Dallas Mavericks. Easily one of the worst trades ever made (for Milwaukee of course). Dirk and Kidd are definitely feeling that this 2011 NBA Final against Miami Heat is their best chance for a title, as they have a very good group of players around them.
Miami Heat v Dallas Mavs Finals Prediction: Dallas are going to win their first ever NBA Championship due to the extraordinary form of Nowitzki, in combination with their deeper bench, more experience and perhaps with that extra chip on their shoulder as they will be looking to take revenge for what happened 5 years ago.
Dallas To Win the 2011 Finals 4-3 or 4-2