In the business of football betting and predictions, it's not about what you want to happen but what will happen. Point is that one should never let club likings or player favorizations get into him and delute his fair judgement. At the end of the day, betting on accurate picks and making money is what matters. Monday has now turned into a football fiest with the Premier League always leaving the last match of the round for the late night fixture and this nice tendency is now emulated by the Spanish Primera Division, so we got two interesting matches coming up tonight – Sunderland v Everton and Getafe v Zaragaoza.
Sunderland v Everton Prediction – Both Teams to Score @ 1,90
Sunderland sent shocking waves all across the world just a week ago when they trashed Chelsea by 3-0 at Samford Bridge. Few could have predicted such an outcome and tonight the Black Cats will be looking to build on that strong display aganist a rough and though Everton side that's coming after a 1-2 defeat at home against Arsenal.
The majority of punters betting on football are currently laying money like crazy on Sunderland influenced by the impressive win at the Bridge. Plus, Darren Bent is expected back in the lineup after shaking off an ankle injury. However, Everton should never be underestimated, and whenever a lot of people are betting on the same thing, it usually ends up completely different.
We are going to give it to you straight – our pick for this game is on Both Teams to Score @ 1,90. Sunderland scored 3 against Chelsea and now it will be almost upsurd for them not to get on the scoresheet at home in a sold out stadium. And they should have leading scorer Bent back, but even without him Gyan Asamoah is always a great option having scored 4 goals in his last 3 matches for the club.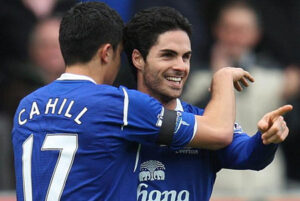 Meanwhile, Everton are one of the thoughest sides in the Premier League and should never be undervalued. An interesting fact is that they've always played well at the Stadium of Light, where they have not lost since 2001. Since 2001, they have grabbed 29 of 33 points available against the Black Cats. Sunderland have not conceded in their last 3 matches at home and we believe Everton will put an end to that run tonight. Moyes can rely on almost his entire squad except for long-term absentee Leon Osman, and Fellaini who is serving the 2nd of his 3-games suspension. Everton are always looking to score with aggressive and skillful players such as Artega, Cahil, Pienaar, Yakubu, and Saha. That's why our Sunderland v Everton Prediction is for Goal/Goal.
Sunderland v Everton Prediction: We expect both teams to get on the scoresheet, because Sunderland have not conceded in their last 3 home games, while they should be able to score themselves after the shocking 3-0 win against Chelsea and the return of Bent in combo with young Gyan.