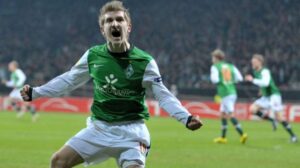 Two of the most attractive and attacking-minded teams in Europe go head to head as we provide you with the most accurate Champions League picks for today and this Tottenham v Werder Bremen prediction in particular. Tottenham are entering this game with confidence being sky high after their stunnig comeback win against Arsenal (2-3) this Sunday. Meanwhile, Werder are going through a real crisis having no less than 11 players injured and collapsed to a 4-0 loss against Schalke in the Bundesliga this weekend. While everone expects an easy win for the Londoners, we feel that won't be the case and it's all explained in our Tottenham v Werder prediction.
Thomas Schaaf has a lot of squad problems to deal with going into this crucial CL game. Werder have an entire team missing with the following players officially confirmed as unavailablef or this fixture: Mikael Silvestre, Wesley, Marko Arnautovic, Pizzaro, and Petri Pasanen. However, German teams have always demonstrated strong will and ability to overcome not just goal deficits but also such lineup difficulties. German teams should never be counted out or underestimated no matter their current form or condition. Take the Sampdoria CL Playoff for example – the Italians had a 2-0 lead but leaked a goal in the 94th minute at home and Werder scored another in Extra Time to quality for this group stage. So they have proven to be a curageous team with a die-hard attitude.  And that's probably the key to this Tottenham v Werder Bremen prediction.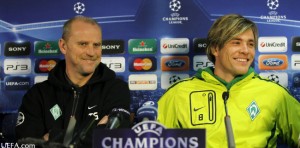 Schaaf made an interesting comment on his team's current situation: "If you look at the players we have injured they could make up a good team, but we will cope. We will not complain and everyone will give their best. You have to be honest and say something special would have to happen for us to make it through to the next round. More important to me is how we play and that we give our best to turn things round."
Werder are more experienced than Tottenham in terms of Champions League football, because it's the first time the Londoners have made it to the group stage of the competition while the Bremen side are seasoned vets featuring in almost every edition over the last 6-7 years. Despite the injury setbacks, they still have plenty of quality players to rely on like Marko Marin and Hugo Almeyda. These two can cause real havoc for the English defense tonight and that's a major factor in our Tottenham v Werder prediction.
Tottenham have their heads in the clouds right now after the super impressive victory against city rivals Arsenal in combination with the fact that they are at the top of this Group A with 7 points from 4 matches. A win for them tonight will seal the deal and guarantee a place in the last 16. But perhaps it's a bit too early for that to happen. Tottenham have had just way too much joy in the Champions League this season and it's totally new teritory for them. They are currently on a run of 3 straight home wins and our Tottenham v Werder prediction is for this run to end tonight.
Another factor working in favor of the Germans in this Tottenham v Werder betting analysis is the status of Van der Vaart and Bale. These two are Hot Spurs' best players this season and while Bale is expected to make it after shacking off a shoulde injury, the Dutch playmaker will most likely miss this game with an ankle injury.
Punters from all over the world and betting companies alike are heavily favoring Tottenham to win this one. Weder are being seriously understimated here and this could prove to be a huge mistake. The odds for Tottenham to win are just 1,44 while a win for Werder pays off at 7.00! The draw is rated at 4,50!
Tottenham v Werder Bremen Prediction: The history of football has proven time and time again that German teams should never be underestimated no matter their form, injuries or result. They give their all till even the slightest mathematical possibility exists and our prediction is that Werder won't return home empty handed.
Champions League Betting Pick: Bet On Werder On Double Chance (X2) @ 2,62