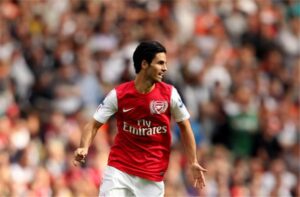 There is plenty of games to be played and loads of money to be made today, so we bring you the best free soccer predictions for today, September 24th, 2011. Our selections are from the four major leagues in Europe – Premier League, Bundesliga, Seria A, and Primera. An important factor about today's football betting picks should be the upcoming Champions League matches next week. All the teams involved will definitely take this into consideration, despite the common cliche of "taking it one game at a time."
Manchester City v Everton Prediction, 13:45 CET
This is the opening match of the 6th round in the Premier League. Man City slipped in the previous round when they played away at Fulham as they led the hosts get a point after having a 0-2 lead. This should make them even more motivated to claim all three points against a troubled club such as Everton. The financial difficulties faced by the Toffees have been well documented over the past several months, so this fixture will be in the "rich against poor" scenario. However, we do believe that City have what it takes to get the win given all the talent Roberto Mancini has at disposal. Another motivational factor making this one of the best free football picks for today is that City have won just one of their last nine games against Everton. There have not been any draws in the last 10 games between those opponents, with Everton winning 8 of them!
Betting Verdict: City are clearly the better side here and we are backing them to break the hoodoo against Everton with a win here.

Bet On City to Win @ 1,50
Arsenal v Bolton Prediction, 16:00 CET
Much has been said about Arsenal's miseries lately, but we had predicted that more than a year ago in an article here. Arsenal have the worst defense in the entire league as they have conceded 13 goals in just five matches so far! Bolton have not won away against the Gunners since 1962, and they probably won't get a better shot at it than this. Arsenal are unstable. They've lost their creativity in midfield after the departures of Arshavin and Nasri, so another upset could be on the cards.
Betting Verdict: Bolton are known for being a though team with some skillful players in it, so they will certainly score at least once, while Arsenal as hosts are guaranteed to score as well.

Bet On Goal/Goal @ 1,80
Newcastle v Blackburn Prediction, 16:00 CET
Newcastle have been the nice surprise in these opening five rounds as they have not lost a game and are currently 4th in the standings, despite the summer exists of Joey Barton, Jose Enrique, and Kevin Nolan. Ben Arfa will make this EPL debut for the 2011/12 season in this match, and that will be another boost for the hosts. However, up against them is Blackburn with Yakubu catching fire. Rovers will be looking to prove their point after scoring four goals against Arsenal (two of them were own goals actually, but what the heck).
Betting Verdict: It won't be an easy match for Newcastle, and we expect both teams to get on the scoresheet.

Bet On Goal/Goal @ 1,90
Liverpool v Woolverhampton Prediction, 16:00 CET
Liverpool are mixing up some encouraging displays with bad ones. They have not managed a single goal in their last two EPL games, both of them were away from Anfield. Now that they are back at their turf, we expect Suarez to start scoring again. Another positive factor is the return of captain Steven Gerrard. However, up against is a tricky Wolves side that's proven to be capable of grinding out good results.
Betting Verdict: We expect Liverpool to win, but it should be a Goal/Goal as well.

Liverpool to Win @ 1,40
Bayern Munich v Bayer Leverkusen Prediction, 18:30 CET
The Bavarians have not leaked even a single goal in their last eight matches in all competitions! This is an amazing feat proving just how much they've improved under the guidance of Juup Hainke. Nonetheless, we expect Bayer Leverkusem to be the team that will put an end to Neuer's run of clean sheets, while the home side will definitely score at least once. Betting on the draw here is certainly worth the risk given the high return you will get, but we will stick to the goals in our list of free soccer predictions for today.
Betting Verdict: The game has goals written all over it, but it could end up in a 1-1 or 2-2 draw.

Bet On Goal/Goal @ 1,72
Bologna v Inter Milano Prediction, 18:00 CET
Inter have been in tragic form so far this season. Good news for their fans is that Moratti finally sacked Gasperini who shouldn't have been appointed in the first place. However, the successor is quite the controversial figure too as Ranieri has never won a major trophy in his coaching career despite leading some big clubs, such as Chelsea, Valencia, Roma, Juventus. Usually though, when a club hires a new coach, it goes out to win its first game under the new regime. Inter will be missing their mastermind as Sneijder is out with an injury, so it won't be easy for them. But Bologna are missing some important players too.
Betting Verdict: Inter have not won a single game in their last eight outings, so we expect them to finally prevail today, and that is one of the best free soccer betting picks you can get for today.

Bet On Inter to Win @ 1,90