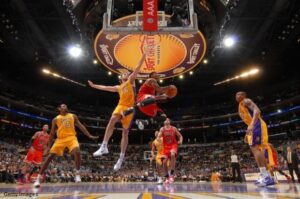 Merry Christmas to all you basketball fans out there! We wish you best of luck, and most of all, be healthy. As our Christmas gift to you guys, we are bringinig you the best NBA betting tips and picks for free. Five major games have been scheduled for tonight and the matchups are so good that fans of the leather ball worldwide will be glued to their TV sets on this special night. One of the hottest and most anticipated games is the one between Lakers and Bulls at the Staples Center, so what could we expect from it? We are laying it all out in our Bulls at Lakers prediction.
The reality for the Lakers has been really hard in recent months. Not only were they swept by Dallas in the Western semis, but they part ways with some key pieces during the summer. What's even worse is that the management has failed to find adequate replacements. First, the Zen Master Phil Jackson retired and instead of appointing his long time assistant and true Laker Brian Shaw, the man that was brought in was none-other than former LeBron coach Mike Brown who is known for his Playoff failures.
Then the Lakers made a shocknig move by offloading last season's NBA best 6th man Lamar Odom who has been one of their leaders in their championship runs. What's even worse is that he was traded to the team that defeated them in the Playoffs, Dallas Mavs. To top it all up, the Lakers did not receive anything in return. It was just a move designed to free up some cap space, although not a single major player has been brought in all sumer long despite speculations about Chris Paul and Dwight Howard. These are some major factors for our Lakers v Bulls prediction on December 25th, Christmas night. Thesea are one of the reasons why we favor the visitors.
But there is another key element that swings our prediction towards Rose's team for our Bulls at Lakers analysis. Lakers' starting center, Andrew Bynum will miss this game as well as the next three, due to the suspension he got from the league, because of the harsh foul he commited on J.J. Barrea in the fourth loss against the Mavs. It was a foul out of frustration, but nonetheless, it was a bad foul that he should not have made so the suspension is well deserved. It was actually a five game suspension reduced to four.
So without Bynum in the lineup, the team in purple and gold will have to rely more on Pau Gasol who has been looking even more shaky than usual during the preseason games. He look a bit isolated and not involved in those exhibitions, and there are some good reasons for that. Above all, Pau feels he is no longer wanted and that's the worst thing for a player – to not feel the support of teammates and management. Why is that so? Because, the Laker managemnet got him in a trade for CP3 a few weeks ago. He was about to be shipped to New Orleans, but that move was denied by David Stern due to "basketball reasons". In order for the Lakers to get a win against the Bulls on December 25th, they would need a solid contribution from Gasol and we just can't see that happening.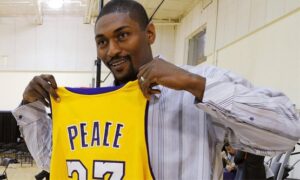 Another worrying factor for the home side in our Bulls at Lakers prediction is the mental state of Ron Artest. Oh, I'm sorry, he is Metta World Peace now. We all knew the man was crazy, but that's just getting ridiculous now. To have a guy on your team with "World Peace" on the back of his jersey now? That's got to be a hard pill to swallow for Kobe. And above all, Phil Jackson knew how to deal with mister Metta, but will coach Mike Brown be that successful? We seriously doubt it.
Another reason why we favor Chicago to win in our Bulls at Lakers prediction for Xmas, is the current state of Kobe Bryant. Vanessa Laine filed her divorce papers after 10 years of marriege, allegedly, because of the Mamba cheating on her all the time, with more than a hundred women. Now that 10 years have passed, she is eligible for half of his money, so Kobe is about to lose about 300 million USD in that divorce.
But besides those financial and family problems, Kobe has got physical issues to deal with as well. In the pre-season loss to the Clippers, he landed on his right wrist after attempting a dunk (he got blocked). So now, he is listed as "day-to-day", but the general conception is that he will play through the pain. He torn a ligament in his right wrist, and that will certainly affect his shot in a bad way, and that's a major factor when you want to get the most accurate NBA betting prediction.
Of course, whenever you want to get an accurate betting prediction on NBA, you have analyse both sides involved. We have not said anything about the Bulls, but that's simply because that's not much to say about them. They have been solid all year long, and their roster has not change much over the summer. They are the closest definition there is to a team. They've got great chemistry and the league's Most Valueable Player. What's good about them is that they ditched Keith Bogans and replaced him with the much more offensively capable Rip Hamilton so that's an improvment for them.
Bulls at Lakers prediction: The odds are certainly stacked against the LA in this one. They've lost Phil Jackson, and they are now still adapting to a new coach with a new system. The triangle offense is gone. Bynum will miss the first four games, while Kobe is going through some serious trials and tribulations right now. Up against them is a solid Bulls team that has improved further, and a highly motivated 23-year old reigning MVP Derick Rose hyped up about playing his first game on Christmas day.
>
Betting Verdict: Bulls to Win @ 1,60 on Money Line