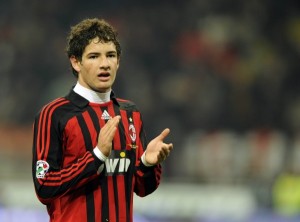 AC Milan is getting ready for the new season with a friendly this afternoon against Varese, so we are providing you with our Varese v AC Milan prediction. Right from the start, we want to you know this is one of the most accurate soccer picks for today although the odds might not be as high as you want.
Let's get it on with our Varese v AC Milan prediction by recaping last season's experience for the Rossoneri. 2009/10 was a bad season for Milan by their own standards as it marked yet another trophy-less year for them, while their citry rivals from Inter completed their most successful chapter in their entire history by winning the Treble – Seria A, Coppa Italia and Champions League. That certainly made AC Milan's season even worse as their fans had to not only suffer their favorite side's poor performances but also envy at the success that Inter had.
After suffering so badly, Milan fans expected that this year would be a much more positive one and they relied on mister Silvio Berlusconi to splash some of his millions on new selection. The entire Red and Black squad consists mainly of players over the age of 30 which is not exactly "first youth" in football. They need some fresh new faces, however no serious signings have been made thus far.
The only major change Berlusconi did was to hire Allegri as head coach. Allegri made a name for himself at Cagliari and whoever watches closely the Seria A knows that Cagliari are a strong side that plays and attractive and attacking brand of football. That's what Berlusconi wants for his team in terms of style of play but will Allegri be able to deliver with such a thin amount of talents in his ranks?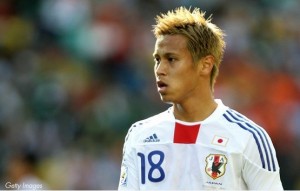 Rumor has it right now that Milan are about to sign Honda from CSKA Moscow and we have to say that this would be a great addition to their squad. The young Japanese attacker is just the type of creative and dynamic player they need so badly right now and this transfer could prove to be their savior.
But back to the Varese v AC Milan Prediction. When it comes to betting on club friednlies like that, it's super important to know the starting lineups and have some type of expectation as to what the head coaches will be doing and they players they will decide to field. Milan are of course the way better side but if they don't play their top players a surprise could happen even against Varese.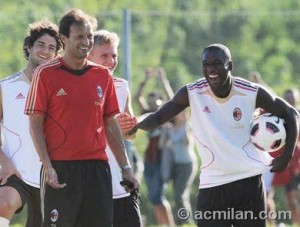 However, we have got news for you. The match will be played at the Ossola stadium in Varese and AC Milan will start with the following 11 players, according to the club's official website:
PROBABLE ROSSONERI LINE-UP: Abbiati (32), Papatathopoulos (15), Bonera (25), Kaladze (4), Jankulovski (18), Abate (20), Ambrosini (23), Flamini (16), Seedorf (10), Pato (7), Borriello (22).
The Reserves will be: melia (1), Roma (30), Antonini (77), Nesta (13), De Vito (56), Oddo (17), Yepes (76), Strasser (14), Merkel (52), Novinic (53), Inzaghi (9), Beretta (51), Oduamadi (54), Verdi (55).
Have in mind that Ronaldinho has not been called up for this friendly against Varese.
Varese v AC Milan Prediction: Given the players that will start for the Rossoneri, we predict they will take the lead at Half Time, because Pato and Borriello are very dangerous in attack especially when they have Seedorf, Flamini and Ambrosini behind them. Plus, the opposition is not so serious thus our most accurate football pick here is for AC Milan to Win and the odds for that are 1,45.
BetOnWins Football Pick: Half Time/Full Time – Bet On AC Milan – AC Milan @ 2,25
So if you want to make some money on our accurate football picks, register at bwin and bet on AC Milan to lead at Half Time and Win the Game!