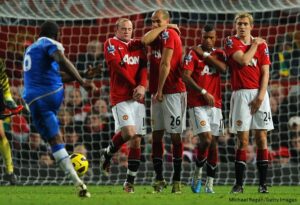 The top betting pick for today comes from the English Premier League as BetOnWins.com brings you the most accurate Wigan v Manchester United prediction. This games marks a decisive stretch of the season for the Red Devils, as they play their next two games against Chelsea on Tuesday, and then against Liverpool at Anfield next weekend. Meanwhile, Wigan Athletic find themselves at the opposite end of the table trying to avoid relegation.
Alex Ferguson was perhaps a bit too quick to write off Chelsea's title chances this season, claiming that the league is now officially a two-horse race between his team and Arsenal. However, should the Reds drop point at the WB stadium today, and lose at Stamford Bridge this Tuesday, it will pretty much blow the title race wide open once again. "That's the way it's looking at the moment – I think either ourselves or Arsenal will win it."
Everyone is favoring Manchester United to win this game against Wigan easily. The odds for them at the online bookies are set at about 1,55, while anything else is considered as a huge surprise with the draw being offered at 3,80 and a win for Wigan is 7,00! According to our Wigan v Manchester prediction, the online betting companies are in for a big surprise here and it's the perfect opportunity to cash in on it.
The thing is that United have been showing some signs of slowing down in recent weeks. First they lost against relegation-battlers Wolverhampton. Then they looked alarmingly blunt against a none-division side in the FA Cup, and didn't manage to score on their travel to French soil in the midweek Champions League fixture.
Don't forget that Man Utd have a game in hand and that's exactly this one. Arsenal will be playing the Carling Cup final at Wembley this Sunday, so even if Ferguson's men fail to bag all three points here, they will still remain at the top of the Premier League chart. So it won't be such a horrible mistake should they record a draw against Wigan here.
On top of all that, Rio Ferdinand, Park Ji Sung, and Anderson, have joined the mounting injury list which already included long-term casualties Owen Hargreaves, Johny Evans, and Antonio Valencia. And when you add to that the tough upcoming schedule, it will be really hard for Ferguson to rotate his men and always have a fresh and energetic lineup at his disposal.
The most important piece of info regarding this Wigan v Manchester United prediction is the fact that Wigan have never managed to get even a point against United in 12 attempts thus far. It's been 12 straight wins for Man Utd! Such runs always come to an end, and it's about time for that to happen, especially in such an evenly-matched leage as the EPL.
Wigan v Manchester United prediction: BetOnWins.com predicts that a surprise is on the cards here! We expect Wigan to provide a stern test in this one and finally get something out of their mighty opponent.
Bet On Draw @ 4.00