It's a real basketball showdown in Texas as one of the most heated NBA rivalries takes place tonight with San Antonio taking on Dallas and we give the most accurate Mavericks at Spurs prediction. This definitely is one of the best betting picks from the NBA for the 26th of November. Spurs are going through their best start in club history and are on a current run of 12 straight wins. Will the fatal 13th be fatal for them, we certainly think so.
Winning streaks always come to an end eventually. San Antonio head coach Greg Popovich had an interesting comment about his team's current spectacular run of 12 wins in a row: "I don't even notice it. Every game is a game and we don't even think about it. We'll lose our share, it will end like every other streak."
Spurs' last game was an Over Time win in Minnesota where they had to overcome a 20-point deficit in order to finish off the Wolves in the additional five minutes. It looked like a definite loss at one point, but then again, SAS are an exprienced squad that doesn't get worried whenever the shots are not falling for them. Still though, we feel that they've had way too much luck lately and it's about time for their winning streak to come to an end. That's why our Mavericks at Spurs prediction is for an away win!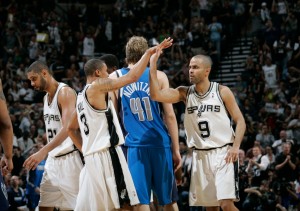 The revenge factor is also big in this Mavericks at Spurs prediction and works in favor of the visitors once again. See last season, Mavericks had the 2nd best regular season record in the Western Conference while Spurs were 7th meaning that these teams faced each other in the very first round of the 2010 NBA Playoffs. What few could have predicted back then was the outcome – Spurs took a 3-0 lead in the series and ended up eliminating the Mavs 4-2! This was a huge blow for Dallas and tonight they will come out roaring to make amends for that defeat and that's key to an accurate Mavericks at Spurs prediction.
And even if we don't take all these factors into account, Mavs still have a great chance of winning in San Antonio simply becuase they have a very deep squad full of high quality players. It all starts with one of the best playmakers to have ever played the game of basketball – Jason Kidd. He is one of the best rebounding PGs in the NBA and still has what it takes to find the open man and average 9.5 APG this season.
Of course Dirk Nowitzki is another reason to favor Dallas in this Mavericks at Spurs prediction. He has been in top form lately and comes into this game as the league's 2nd best scorer averaging 26.4 points on the incredible 53.6% shooting. He fueled his team to a 111-103 victory in Oklahoma with 34 points while on the previous night against Detroit Pistons he scored nearly half of Mavs' points (42 points) to lead them to a 88-84 win. So Dirk is at the top of his game and that's great news in terms of this Mavs at Spurs prediction.
Mavs' summer acquisition Tyson Chandler is having a great impact both on and off the floor. Here is what Nowitzki said of him: "He's been amazing, just his positive energ. He's always the first one off the bench when he's not on the court. He's vocal in the locker room and he's been amazing to have around." Chandler is averging 9.5 rebounds and 8.7 points per game this season.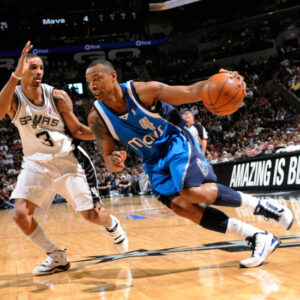 Caron Butler is the SG of this Mavs team and he was acquired last year from Washington. He is one of the better shooters in the entire league and will most likely score about 20 points against Spurs tonight. An important factor for this San Antonion v Dallas game is examining the bench players. Mavs can rely on the explosive Shawn Marion and Brandon Haywood. Jason Terry was the voted NBA 6-th Best Man back in 2009 but is now a legitimate candidate for the starting spot. In other words, Dallas have a deep squad well capable of beating anyone in this league.
Mavericks at Spurs Prediction: Spurs are currently on a 12 game winning streak and good things as we all know always come to and end. 13 is ussually a fatal number too. Dallas will be pumped to get revenge for their Playoff elimination to San Antonio in last season's Playoffs plys they have the basketball capabilities to bring home the W.
Bet On Mavericks to Win @ 2,50 on Money Line