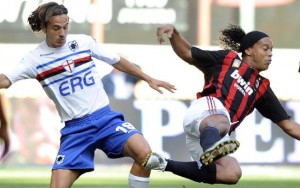 AC Milan are in top form at the moment having won 7 of their last 8 matches. However, it's never easy to maintain such a form for too long in modern football and they will eventually start dropping some points. Could this happen tonight? We answer this question in our Sampdoria v Milan prediction.
Of course most people are favoring Milan to win once again and bag all three points here, however we feel that won't be the case. The Rossoneri are coming into this game after a mid-week Champions League victory in France. They have played a lot of matches lately so tiredness will certainly start to creep in, while Samp have had a whole week to rest and get ready just for this home game against the main favorites for the Seria A title this season. That certainly puts the home side in better position when it comes to providing an accurate Samp v Milan prediction.
Milan's head coach Allegri has already issued a warning going into this game: "The match tomorrow evening is quite delicate, because we're coming off of a physically and mentally exhausting period, as we've had to play every three days. It's taken a lot out of us. We always have to be patient, because games last 95 minutes. There's no hurry to decide them early on, also because at the moment we're a bit tired mentally. Unfortunately, Pirlo is not available for selection, even if I counted on him. I don't believe that Antonini will be available, either, but we'll see how he's doing this afternoon."
A key component of this Sampdoria v Milan prediction is the players missing. Cassano will be unavailable for the hosts because he is in a fight with the club president and reports in Italy are already suggesting he has signed a contract with Inter and should come to Milano once the winter transfer window opens up. Milan are missing a number of starting players – Pato, Pirlo, Antonini, Inzaghi, and Oddo.
Sampdoria v Milan Prediction: It's about time for Milan to drop some points. They will be tired going into this game after their recent run of straight wins while Samp are a though nut to crack at home. Should be a close game that will end in a draw.
Football Betting Verdict: Bet On Draw @ 3,10