We continue our row of accurate NBA picks with this Bulls at OKC Thunder prediction. Two of the most talented young teams in the league are going head to head and a game like that is destined to produce a lot of highlights. An interesting fact about this Bulls vs Thunder prediction and analysis is that both teams finished in the 8th spot in their respective conferences last season and didn't make it past the first round. However, the Bulls and OKC Thunder now have higher ambitions and will not be satisfied just with sneaking into the Playoffs.
The key to this Bulls at OKC Thunder prediction is in the condition of the players that will step on the court. Bulls did a lot of rebuilding around their star PG Derrick Rose and all the modifications they made on their roster should turn them into a force to be reckon with in the Central Division of NBA's Easter Conference. The Bulls were unable to capture either one of their main free-agency targets this summer, so they decided to go for a less glamorous plan B which involved a lot of Jazz-men. Of course, we are talking about Carlos Boozer, Karl Corver, and Ronnie Brewer. Chicago replaced the heavily criticized Vinny Del Negro with former Celtics assistant Tom Thibodeau.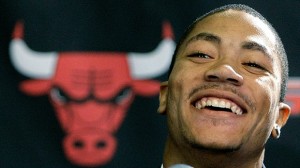 But Chicago's busy transfer dealing over the summer didn't end here. They beefed up their back court further with the additions of C.J. Watson and Keith Bogans, forwards Brian Scalabrine, Kurt Thomas and Turkish center Omer Asik. We are talking about a lot of new players and as talented as they are, it will certainly take time for the Bulls to gel as a team, and that's essential in our Chciago v OKC prediction.
Derrick Rose had an interesting comment on the roster changes: "It is exciting that the new players are good players.  They're not selfish. They can definitely help my game. They're older than I am, so they know the NBA game better than me."
Nonetheless, there are some bad news for the visitors in the eve of this Bulls at Thunder prediction as Carlos Boozer tripped over a bag and broke his right hand so he will be out until mid December. Taj Gibson who posted 9 points and 7.5 rebounds in his rookie season last year will take his spot in the starting lineup.
Of course, in order for us to provide the most accurate Chicago Bulls at Oklahoma City prediction, we have to devote special attention to the hosts. The Thunder made an incredible improvement last season and it was mostly down to their go-to guy Kevin Durant who is turning into the most exciting young player in the entire world of basketball right now. He led Team USA to the gold in Turkey and he was the league's leading scorer last season.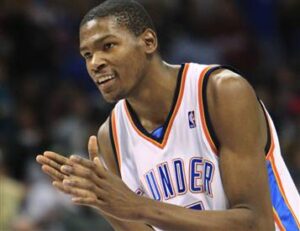 Durant signed a 5 year contract extension worth 86 million USD and is fully aware that expectations are high right now in Oklahoma. Here is what he had to say: "I think we have confidence but we still know that last year is over with. We know that we had a good year, we made it to the playoffs, but this year we know that we've got to start back at square one. We've got to work hard every day to get better, continue to fight every day and work together as a team and continue to be one group. "
The home side has the upper hand in this Bulls at OKC Thunder prediction, because Durant is supported by Russel Westbrook, Jeff Green and new additions Daequan Cook, Morris Peterson and Royal Ivey.
Chicago Bulls at OKC Thunder Prediction: A Thunder win is on the cards here as they are especially strong at home and led by Durant and Westbrook, they should be able to brush off a freshly formed Bulls team that's yet to gel and will be without their main summer addition Carlos Boozer.
NBA Picks: