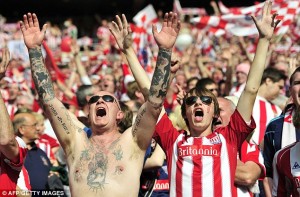 The weekend is the best period when it comes to betting on the best footbal betting picks. BetOnWins.com is all about hitting you fans worldwide with the best sports betting options and we have some winners for you today. The English Premier League is back in full swing, and there are loads of interesting fixtures in Spain, Germany and Italy. Champions league matches are coming up next mid-week, so that has to be taken into consideration too.
Liverpool v Arsenal Prediction
Today, March 3rd 2012, we have the most accurate Liverpool v Arsenal prediction. A win for Pool is what the bookies are expecting, but is that realistic against a tricky Arsenal team that can explode at any time? We don't think so. There is just too much hype going around Anfield right now and usually, when things get so good for Pool, there is a big failure coming just right around the corner. Arsenal despite their problems and struggles, still are a major team and Van Persie alone is enough to make them dangerous agianst anyone. It's a Goal/Goal type of tame for us.
Betting Verdict:Goal/Goal @ 1.66

Bayer Leverkusen v Bayern Munich Prediction
Another interesting betting pick from the Bundesliga. It's Bayer against Bayern and that's always one of the biggest derbies in Germany. Bayer are about to play Barcelona this next Tuesday. Bayern Munich are trying to get back into the top spot as they are currently trailing by 4 points. It's a super important game for them, while Leverkusen might not be totally focused given their CL match coming up, and the fact that they are practically outside of top four spots in the league standings. Both teams will score, and eventually we feel Bayern Munich are going to win.
Bayern Munich to Win @ 1.75

Hertha v Werder Bremen Prediction
Hertha Berlin have not score a single goal in their last five matches! Now, they are playing at home and they will get a pretty good shot at ending this run. Meanwhile, Werder are one of the better attacking sides not just in Germany but in Europe, with Pizarro, Marin, and Arnautovic.
Goal/Goal @ 1.61

Hamburger v Stuttgart Prediction
Another game from the Bundesliga that promises to be a goal fest. Hamburger are always strong at home. They have plenty of firepower up front and are desperate for points. Petric and former Bayern player Guerror are the attackers that can score at any time, while Stuttgart are there to even things up with Cacau.
>
Goal/Goal @ 1.61