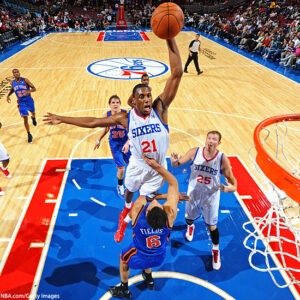 NBA predictions are a great opportunity for online punters because unlike football, there is not a possibility for a draw here as even if your team wins in Over Time you still get paid. That rule is valid with almost all the online bookies and that's why this type of bet is called Money Line. So what money-making lines do we have for you tonight?
Indiana Pacers at Philadelphia 76ers, 76ers to Win @ 2,15

The 76ers are still looking for their first win of the season as they started with three straight losses. The latest one of them happened last night and was particularly painful as the Sixers lost to Washington Wizards in OT after conceding a 3-pointer in the last second of regular time. In the NBA, whenever a team loses so dramatically by conceding a basket in the last seconds, it usually manages to win the next night thanks to all that anger and disappointment which are feelings that good coaches can easily convert into loads of energy on the floor. So tonight, we expect to see a desperate 76ers team ready to hustle for every lose ball and has the advantage of playing in their own building unlike last night.
It's interesting that Pacers and 76ers met in the season opener, but the game was played in Indiana. The Pacers are nothing special this year, and yet they have started with two wins and just one defeat which is way more than they were hoping for at the start. The main Pacers are Danny Granger, point guard Collison brought from New Orleans, center Hibbert who averages a double/double, but that's just about it.
Meanwhile, Philadelphia had the 2nd pick in the draft this summer and they chose Evan Turner, but the kid is yet to impress. Turner was held to just 9 points in nearly 30 minutes against the Wizards so he should be fired up to produce a better performance in front of home fans. Louis Williams has been the Sixers' best player so far with over 20 PPG and he does that coming off the bench. But the big stars of Philadelphia are Andre Iguodala and Elton Brand. They are All-Star caliber players and they will lead the team to their first win tonight.
Pick: 76ers to Win @ 2,15 on Money Line
Detroit Pistons at Atlanta Hawks, Pistons +10,5 Spread @ 1,90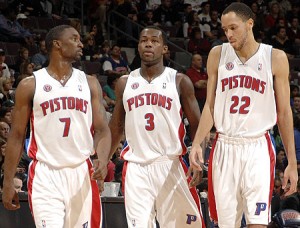 Two teams on the exact opposite end of things going head to head. While Atlanta have opened their season in perfect style winning all 4 of their matches, Detroit are going through a real nightmare losing all 4 ball games thus far. What has been particularly discouraging and disappointing for Pistons fans is the way these losses happened.
First,Pistons lost the season opener in New Jersey after leading 95-88 with just 1 minute and 30 seconds left in the 4th quarter. Then came another devastating loss in the home opener against Oklahoma. Detroit lost that game with a bucket in the last seconds against of the best teams in NBA, the OKC Thunder 104-105 with Jeff Green scoring a lay up with just 2 seconds to go.But if you thought that wasn't enough, two nights ago the Pistons blew away a 20 point Half Time lead against the Bulls.
Last night was the first time Pistons really got well beaten but that happened against none other than the Boston Celtics so such an outcome was normal, even though we were expecting something different. Rip Hamilton missed that game against the C's and his status is still not confirmed for tonight. A lot will depend on whether or not he is available, but there is no official info just yet. But even without him, Pistons have plenty of good players that just need to settle down and start making their shots. Charlie V is a big player, as is Ben Gordon and Rodney Stuckey. Prince is also a top baller so at least in theory, Detroit should be one of the good teams in the NBA and certainly win a ball game every now and then.
The odds on Pistons to break their duck against the Hawks are supreme. Bet365 offers 6.00 for a Pistons win on Money Line, but the point spread which is more secure is +10,5 points and that's our pick here.
Pick: Pistons to Win +10,5 Points Spread