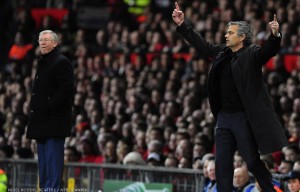 The entire world will stop for at least a couples of hours as we bring you today's best Champions League pick with this Man United v Real Madrid prediction for March 5th, 2013. There is so much intrigue and so many stories mixed in here that it's difficult to cover everything, that we will just have to focus on the most important facts about this United v Real prediction. Jose Mourinho is leading his fourth different team at Old Trafford against Sir Alex Ferguson, with Porto, Chelsea, Inter and now Real. The Special One has been viewed by many as Fergie's natural successor whenever the Scotsman chooses to retire from the game. Cristiano Ronaldo will have an emotional comeback at the place where he became the player he is today. These are just some of the headlines about this Manchester v Real prediction for March 5th. It's really a final before the Final.
Obviously Real Madrid are coming into this game full of confidence after two consecutive wins over their biggest rival. Everyone at their camp is charged up and excited, and that certainly helps as it gives the players a much more positive approach and improves their believe and self-esteem. Of course, this particular game is so big and important that motivating the players will not even be on the agenda of either Fergie or Mou. The Theater of Dreams has one again turn into football's biggest stage presenting fans of the game worldwide with yet another spectacle for the ages. That game could as well go into Extra Time as the 1-1 draw seems a highly likely result given how good both sides are.
What's interesting is that Sir Alex did make his Man United v Real Madrid prediction at a press-conference yesterday saying (UEFA.com):"It doesn't get any bigger than this game: two big clubs, two great histories, it's set up to be a marvellous game and I don't think it'll disappoint. I think there will be goals, that both teams will score, and so you have to think we're going to need more than one goal to go through. My biggest concern is him [Ronaldo] turning up! He'll cause us problems throughout the night, which we'll just have to limit, to curtail, the best way we can."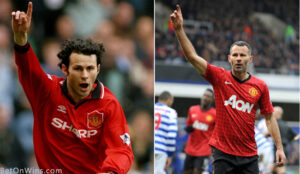 A truly special aspect of this Man United v Real prediction is that it will be a historic game for one historic player. Ryan Giggs will play his official 1,000 game for the Red Devils and how many other players in the world have that many games for one club?! It's just an incredible number and it goes out to show that Giggsy is a living football legend, or should we say an "active football legend". The Welsh winger was born back on November 29th, 1973, so he is in his forties now, still going strong, still teaching the youngsters valuable lessons, and what better way to celebrate such an anniversary than by going against one of football's most successful and glamorous clubs ever. It's quite certain that no other player in the history of football will be able to surpass his record of having scored goals in 20 straight seasons in the Premier League. He has been part of it since the very beginning and has won the league 12 times! Liverpool have not won it even once during his tenure as a player.
We should probably start giving SAF some credit here as he did make yet another accurate Champions League prediction for tonight: "Ryan [Giggs] will be involved, whether starting or coming off the bench, and of course his experience of big-game occasions will be vital to us." And in case you wonder, one of the most valuable and interesting football picks for tonight's games is for Giggs to Score at Anytime offered by bet365 at 5.50!
Sir Alex Ferguson's prediction of "both teams to score" in this match looks quite certain to say at least, and that's probably the reason why online sports betting firms like bet365 are offering odds as low as 1.50 on this particular Man United v Real prediction. Oddly enough, the bookies are heavily favoring Real to get the win here as the odds of 2.30 in favor of them against 3.10 for the home side. The draw could pay off nicely at 3.70. Despite the fact that the Red Devils are going with a lead into this second leg thanks to their away goal in the 1-1 draw at the Bernabeu, the bookies are still viewing Madrid as the favorites to go through to the next round. The odds for United to qualify for the next round are 2.25, and there is some good value there, while Real are given at 1.66 as if everything is certain for them.
Man United v Real Madrid Prediction: To get our most accurate betting pick for this game, register here.