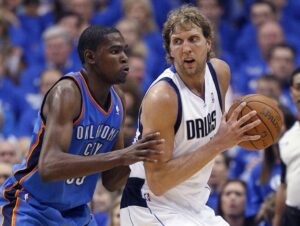 It's the defending NBA champs going against the best team in the West as we bring you our Mavs at OKC prediction. Dirk Nowitzki is starting to get back to his best, while Durant and Westbrook are trying to lead the Thunder into their best ever run of consecutive home wins since the franchise relocated from Seattle. When it comes to providing the most accurate NBA betting picks, it's never easy to know the winner in such a tight match-up, but it boils down to making a proper analysis.
The key to this Dallas at OKC Thunder prediction for March 5th, 2012 is the form of Dirk. The German sharpshooter has been getting back to his very best, and if delivers another big game tonight, that's going to work hugely in Dallas' favor. He scored a season-high 40 points against Utah last Saturday to move Mavericks into a 22-16 record. His words after the game were: "I had a good rhythm tonight. I had not been really been shooting the ball well, especially from 15 to 16 feet. I just wanted to be aggressive and my teammates kept feeding me."
Kevin Durant will go up against Dirk and the winner of this match-up will decide the end winner of the game as well. The Durantula is once against challenging for the scoring title with 28.2 ppg, trailing behind Kobe who is averaging just 0.7 more, but at a far worse field goal percentage. I do think that Durant will once again become the scoring leader in the NBA at the end of the season, as Kobe's minutes will get reduced to have him fresh for the Playoffs.
But back on the topic of our Mavs at OKC prediction, another decisive factor would be the amount of turneovers that Oklahoma will commit. Westbrook and Durant are actually among the most careless players with the ball in the NBA right now. At least according to the official stats. Each is making about 4 TO per game, and if they don't manage to handle this problem tonight, it will be a huge advantage for Dallas who are an experienced team and now how to punish opponents for making mistakes. Furthermore, in a tight game as this one is expected to be, each possession is critical. It's the older team here that will have an advantage.
Last but not least, it's the bench that will also be a huge factor in this Mavs at OKC Prediction. Dallas probably has the more dangerous one, although OKC seem to having this season Best Sixth Man in the likes of James Harden. Yet, Dallas are the more experienced side and has the longer and better bench. Lamar Odom featured in the game against Utah, and apparently he is now read to dedicated himnself to the game in an attempt to revamp his career. Him along with Delonte West, Balbouis and Jason Terry provide coarch Carlial with probably the best second unit in the entire league.
Betting Verdict: Dallas to Win @ 3.40