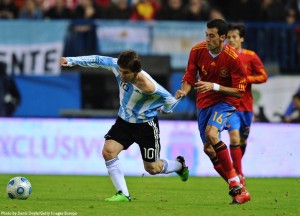 BetOnWins is bringing you once again the most accurate Argentina v Spain prediction that will hopefully make you a lot of money. Officially this match carries the tag of a friendly but we all know that when two of the greatest footballing nations collide, the pride of both players and fans is at stake thus a win for either team will provide a huge morale boost.
Argentina will be looking for a bright new start now under the reign of Sergio Batista, while Spain want to continue their dominant performances from the past two-three years. Batista is Maradona's replacement and considering how the Gauchus ended their trip in South Africa, the successor can only do better this time around. Argentina are on the verge of a new adventure as Batista starts recreating the team in his own vision. Don Diego made some quite strange decisions during his term as coach as he used over 100 players in the 2010 World Cup Qualifications, only to prove once again that great players usually fail as coaches.
But back to our Argentina v Spain prediction. What can we expect and who should you be betting your money on? In order to provide an accurate answer to these questions, we have to dig deep into the roots of this match. On a historical note, Spain won the last two friendlies with Argentina 2-1 in 2009 and in 2006. Perhaps it's time for that to change.
The style of play of both teams is another factor to providing the most accurate Argentina v Spain, and as usual BetOnWins takes that into account as well. The goal of Batista is to implement a more "Spanish" style of play meaning that he wants his team to keep more possession of the ball and the Argentinians certainly have the individual talent to achieve that.He has recalled Cambiasso from Inter who was a omitted by Maradona god know why. Same goes out to Inter captain Javier Zanetti who is now back in the squad but given his age of 37, it's hard to see him participating in another major international forum so why bother calling him up for such friendlies?
At the same time, an advantage for the Europeans in this Argentina v Spain prediction is that they know Messi way to weal. Pique and Pyol are his teammates in Barcelona, as are Xavi and Iniesta, so they should know how to limit his effect.
Besides the style of play, history of previous encounters, the next big factor that's key to BetOnWins' Spain v Argentina prediction is the players that will be involved. Here are the expected starting lineups:
Argentina's Expected Starting 11: Romero, Zanetti, Samuel, Milito, Heinze; Mascherano, Cambiasso; D'Alessandro; Messi, Milito, Tevez

Spain's Expected Starting 11: Casillas, Ramos, Pique, Marchena, Capdevila; Xavi, Alonso, Busquets, Iniesta; Villa, Torres
Argentina v Spain Prediction:The match will be played in Argentina, at Boca Juniors's stadium which will provide a major advantage for the Gauchus. All the players involved have traveled over 15 hours from Europe but perhaps the physical difficulties will be more in front of the current Euro and World Champions as they had an official match last Friday. Bet On Argentina to bring the first loss to Spain as World Champions as they will be the more hungry side backed up by a jam pack stadium.
Bet On Argentina to Win at odds of 2,40
Check our top betting selection from the Euro 2012 matches here.