Thursday night is always an interesting one when it comes to making accurate NBA betting predictions, because a day like that is usually loaded with some high profile matches, like this Lakers at Celtics prediction. There is no need to dwell into all the history between those two teams. Their rivalry is well known. What's important is how this particular game will go down, and we beleive we know the answer.
At some point, the Lakers will have to start winning some ball games away from the Staples Center as their ambitions are much higher than just making it into the Playoffs. They have struggled heavily on their travels this season, and we feel they will break this trend with a win against a top opponent as Boston. We are going to give it to you straight – our Lakers at Celtics prediction for February 9th, 2012, is for LA to win.
The key to making the most accurate NBA betting analysis, tips, and predictions is to understand how the bookies view a given game and find out where they just might have their calculations wrong. Bookies view the game of basketball, as well as any other sport for that matter, as pure mathematics. Of course, they also have an edge on the average gambler by having all the insight information, in terms of which players are in line and if there are some with particular issues that could affect their performance. As a result, they are viewing this Lakers at Celtics prediction as a Boston win. The C's are favorized here with odds of 1.60 on money line, while the real value is on LA priced at 2.50.
The reason is simple – Lakers have won just 3 games on the road this season! Meanwhile, the C's are in good form right now having won 9 of their last 10 games. Yet, the Celtics do have one of the lowest scoring offenses in the league with just over 90 ppg, so they are struggling to get good looks at the basket.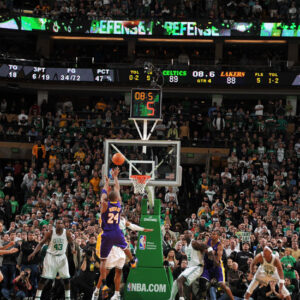 A strong moment that could server as an advantage for the visitors in this LA Lakers vs Boston Celtics prediction for February 9th is that Kobe and Co have enjoyed plenty of regular season success at the TD Garden. They have won 5 of the last 6 meetings there, including the last three.
Making the best NBA predictions and picks is all about analysing the strengths and weaknesses of each side. In this particular case, the biggest weakness of Boston coincedes with LA's biggest strength. Basically, the Celtics are one of the worst rebounding teams in the NBA ever since they traded Perk away. Garnett is not as athletic as he once was, and same goes out for Jermaine O'Neal. Meanwhile, the Lakers are one of the best under the boards and that's normal with the duo of Bynum and Gason at the rim. They should get a serious advantage on the offensive and defensive rebounds and that's key to our Lakers at Celtics prediction.
Another factor working in favor of LA here is that they will have coach Brown working on the sidelines, and they've also had a couple of prep days going into this game. They've now had serveral practices at the TD Garden and that should help the get accustom to the arena and feel more comfortable with their shots tonight. Here is how Kobe commented on this Lakers at Celtics game at the club's official website: "He was a little chippy today. He's such a defensive-oriented coach, there were a lot of things that he saw that we needed to go over, because this was only really our third practice of the season. We're close to really turning the quarter," said Bryant, adding that as he and his teammates get more comfortable with the new system, incorporate new players and get used to everything, they will be right on the cusp."
Lakers vs Celtics Prediction: Boston have had some nice luck in their last five games, all wins, so it just might run out for them tonight. The Lakers will be eager to get their just fourth road win of the season. They've enjoyed plenty of success at this arena, and have an advantage on the glass. Lately, we've been seeing some improved teamwork by them as they are able to get Bynum and Gasol more involved. With a strong performance by Kobe, LA has a good chance here.