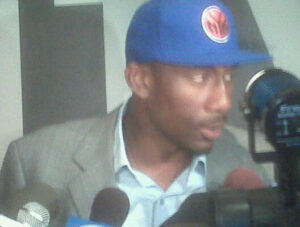 The New York Knicks used the first of their two jokers in this year's NBA Free Agency madness. Knicks agreed a deal with Amare Stoudemire for the next 5 years worth 100 million USD! The former Suns player who is currently 27, will be getting 20 million per season.
New York Knicks have the financial capability of adding another max agent to their roster, after going through some serious self-inflicted misery over the past two seasons only to make space for several big signings this summer. With the first one now captured, the big question in the Big Apple is who comes next? Lebron or Wade? Each one of them is a real possibility for the Knicks and if King James comes to down, we can already smell the excitement (and dust) up in the air over NYC.
An interesting fact about this whole story was that initially Amare went on to self-proclaim himself as better than the other free agent Knicks were going after – Chris Bosh. When asked if he was better than Chris, in a radio interview in New York, Amare said: "Oooh man, are you kidding me? Ask Chris Bosh that question. " – So that's a yes? – "No doubt about it, I'm better than Chris Bosh"
We totally have to agree that Amare is better than CB4, although they are both among the best forwards in the NBA at the moment. The great thing about the Knicks in this deal is that they are getting a player who actually desires to play for them. In Stoudemire, they will be getting one of the most dynamic players in the game right now, capable of posting 20+ points and 10+ rebounds per game. Plus, it will please the hungry Knicks crowd who will finally get to enjoy a big player wearing their favorite uniform.
Here is how Amare described his willingness to play for the Knicks: "I will be totally serious about that, I spent a lot of my childhood there, I have a connection with the state, and I also love the entire coaching staff.  I think Coach D'Antoni's doing a phenomenal job with the Knicks, NY's a great city, I follow them closely."
However, Amare alone is not the answer for the Knicks. He is among the best 3 power forwards in the NBA right now, but he will no longer be fed by a player like Steve Nash, plus there are some concerns regarding the multiple surgeries he has had on his knees and eye-op.