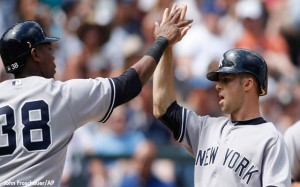 MLB can be a great sport to make money on via online betting, especially now that the football season is in prep mode, which is exactly why we provide you our best MLB prediction for today. The great thing about betting on MLB is that unlike soccer, there are no draws here so all you need is an accurate MLB prediction as to who will win. And on top of all that, there are fixtures every night. Gotta love it!
Tampa Bay Rays at New York Yankees Prediction
The Yankees are the most successful and popular baseball franchise in the history of that sport, so quite naturally they attract a lot of interest from sports fans and bookies worldwide. The Yankees are having a very good season thus far and betting on them to win is one of the best MLB picks on any given day. Our Rays @ Yankees prediction is for the home side to win and will explain just why. And that's exactly what we've done with our Tampa Bay Rays at New York Yankees Prediction.
First of all, the New Yorkers are the better side both in terms of individual talent and as a team. They will be playing in front of their own, super-demanding fans so they will give everything they got to please them. But the biggest reason why we favor them to win and feature them as the best MLB prediction for today is because tonight's game will be very special for them. When it comes to sports betting in general, it's very important to analyze the background of each game along with all the inside news and info.
The Yankees will be playing for more than just the win tonight. They will be playing to honor the loss of two of their biggest club icons – George Steinbrenner and Bob Sheppard. Steinbrenner was in fact the principle owner of the Yankees since 1973, winning seven World Series titles in the process. Unfortunately, he passed away this last Tuesday at the age of 80. Bob Sheppard was the Yankees Stadium Announcer and all the fans who have been at a Yankees' game know his voice by heart. Fans refer to him as the Voice of God. Yet, he also passed away a few days ago at the age of 99!
Best MLB Predictions For Today: Now, you probably understand why a Yankees win tonight is the best MLB prediction for today. Bookies rate it at 1,50 which is not a super high odd, but it's almost guaranteed so if you want to make some real money today, bet on it!
Want to make some money on our MLB picks today? Go ahead and register with the world's largest online bookmaker and bet on Yankees to Win!