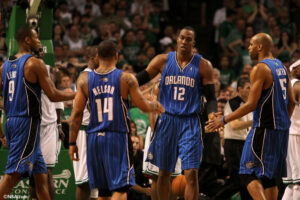 It's Game 6 of the 2010 NBA Eastern Conference Finals tonight as Celtics take on the Magic at The Garden. The Orlando Magic are up to defy all odds and make history by becoming the first NBA team to overcome a 3-0 passive in the Playoffs. No team has done that in a total of 96 different series that have gone 3-0. As Stan van Gundy said, someone has to do it eventually so it might as well be them.
They've certainly played lik it in the last couple of games. First showing amazing strength, courage and belief when they won Game 4 in Overtime in Boston. Then they crushed the Celtics in Game 5 in a really strong performance as they won with a 21 point difference 113-92 as BetOnWins correctly predicted. Now, all they got to do is keep on playing the same way, with more aggressiveness and without fear of missing and making mistakes. It certainly takes a lot of guts to pull off something like that especially against an experienced team like the C's who know all about winning in such difficult situations.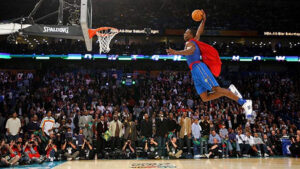 And indeed, this is not a new situation for Doc Rivers and his men as they have managed to overcome such hurdles in the past when they won the NBA Championship in 2008. So they will be full of confidence in their own skills and capabilities, plus they know that even if they lose they still got another match, even though it would be in Orlando. But this could also serve as a double-edged knife, because Magic have their backs against the wall without any further room for error which can have them playing with a greater sense of urgency.
Another positive moment for the Celtics is the fact that their big men Perkins and Davis will play. Perkins had one of his technical fouls rescind by the League so he will be available to play. Big Baby Davis suffered a brain concussion after getting hit with an elbow by Dwight Howard in game 5 but should also be able to take part. Doc Rivers commented on his case saying that: "Baby looks good. He was talking; he looked fine. So he still has to go through a couple of tests…with our doctors to get clearance." He is currently listed as game-time-decision, but here is one of our Celtics v  Magic Game 6 Predictions – Davis will feature.
So these are some positive signs for the Celtics, but the Magic will also be totally up for the task. Just the fact that they managed to pull themselves together and keep on fighting even after losing the first three games of the series to a then-dominant championship caliber team, speaks a lot about D12, Jameer Nelson and co. They played great all year long till these first three games of the East Finals and certainly didn't deserve to go out like that, getting swept 4-0. But then they showed they are not a type of team that's just "OK, we got one win, we didn't get swept we can go home now." No, they showed in Game 5 they are determined to actually win these series, get back to the Finals and even winning the title. That's their goal and we have to give them credit for having the strength and mental toughness to keep on fighting for it.
Here is NBA's Game 6 Preview:

Boston Celtics v Orlando Magic Game 6 Prediction: Bet On Magic To Win and move the series to a Game 7 in Orlando!
BetOnWins Pick: Orlando Magic To Win Game 6 On Money Line @ 2.45