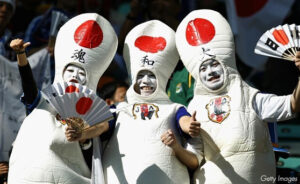 Our Denmark vs Japan prediction is based on the qualities of both sides along with the way they've played so far and what they need from this game in order to qualify. Japan are in better position as all it takes for them is a Draw and they will be through to the last 16, something they've never done besides on the 2002 World Cup which they hosted. Denmark on the other hand have always qualified for the last 16 of the last 3 World Cups (1998, 2002, 2006). The most accurate Denmark vs Japan prediction is that the Asians will qualify in expense for the European team!
Denmark got themselves back into contention after beating Cameroon 2-1 mainly because of all the great chances missed by the Africans. The Red Dynamite looked far from convincing in their opener against Holland in a match they lost 2-0 and did absolutely nothing constructive in attack. Japan on the other hand have the better goal difference as they won 1-0 against Cameroon and lost only by one goal to the Dutch, 1-0. That's why a draw will suffice for the Land of the Rising Sun.
Japan played a decent game against Cameroon and won thanks to a goal by Honda. Honda has in fact been their brightest star so far which was expected right from the start considering how impressive he was for CSKA Moscow in the 2009/2010 Champions League. Honda is a real diamond in the ruff and he will most likely get transferred to a major European club after the World Cup is over. A very good bet for this game is to back Honda to Score At Any Time at 4,00!
Our betting tip for Denmark vs Japan is to bet on the Asian team to qualify which means they will either win directly or draw. Tactically speaking, the Japs will play it safe right from the first minute and try not to make any mistakes at the back while relying on counter attacks where Honda is at his best. Considering how intense this game will be and how much is at stake for both nations, we don't see a lot of goals being scored here. In fact one of our Denmark vs Japan predictions is for Under 2,5 Goals which the bookies rate at 1,66.
But the best Denmark vs Japan prediction is to bet on the Draw at 3,30. The Japs will qualify but at the same time, it's hard to see them winning against a super motivated Danish side, even though they are not exactly top class. It's going to be a tight, high pressure encounter that will be dictatated by the Samurais.
The Samurais are well organized, move as a single unit, everyone on the team knows his task and does his best to achieve it. The end result is a resiliant team that's really difficult to break through. Even the free scoring Dutch Masters had a hard time scoring against them.
Denmark vs Japan prediction: Bet On Draw! A single point is all that Okada's men need in order to qualify and they will get it tonight. However, they might even win the game and surprise everyone and the odds for that are around 3,80, so the safest Denmark vs Japan prediction is for Japan to Win or Draw at 1,80! Or you can bet on Japan to qualify for the next round which is also available at 1,80.