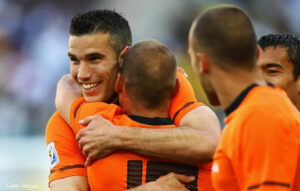 An accurate Holland vs Slovakia prediction can make you lots of money today and that's exactly what we will provide you with. It seems like the teams left in the World Cup has really shifted up a gear now that the elimination stage is on. In the groups, teams had the possibility to go through even if they lose a game, but here the room for error is zero. Holland has been one of the most impressive sides so far, given how easily they brushed away their opponents so far. The Slovaks on the other hand pulled off the biggest upset by eliminating the current World Champions Italy with a convincing 3-2 win.
Could Slovakia produce another huge surprise today? Well, not at least according to our Holland vs Slovakia prediction. The Dutch have a great group of talented players at their peak age. Robben made his debut in their last match against Cameroon and helped them score the winning goal with his shot bouncing off the cross bar only to come at Huntelaar's range who sloted it home. The Netherlands  are turning into one of the few European sides that have played some good football at this World Cup. But this is not a surprise considering the splashes quality throughout their side. Sneijder had the best season of his career helping Inter win a glorious treble. Robben was crucial to Bayern Munich's success along with the experienced Van Bommel. Robin van Persie is starting to click and is looking in better condition with each game, so one of our Holland vs Slovakia predictions is for him to Score At Any Time which is available at 1,83.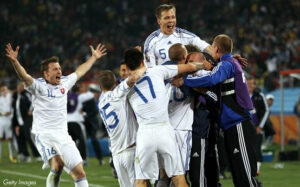 However, our Holland vs Slovakia prediction simply won't be complete and neutral enough if we don't take into consideration Slovakia's chances in this game, and we must start by saying that they certainly have what it takes to make another miraculous result in South Africa, although the reality will probably turn out to be a bit different. The Slovaks have a really nice side with young and talented players like Martin Skrtel, Radoslav Zabavnik, Miro Stoch, Marek Hamsik, Vladimir Vice (son of the head coach), Stanislav Sestak, and Robert Vittek who scored 2 goals against the reigning World Champions.
Holland vs Slovakia Prediction: Given how well the Slovaks played against Italy, their confidence will be sky high entering this game and they won't go down without a fight. That's why the best prediction for Holland vs Slovakia is to bet on  Goal/Goal, as both teams will find the back of the net at least once in this encounter.