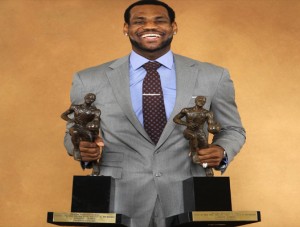 LeBron James was presented yesterday with the Most Valuable Player award for his stellar performances during the 2009-10 NBA regular season. LeBron led his Cleveland Cavaliers to the best record in the NBA (61-21) for a second straight season and nearly had a triple-double every night as he posted 29.7 PPG, 8.6 APG and 7.3 RPG!
Born on December 30th, 1984, LeBron is 6-8 (203cm) tall and weighs 250 lbs. (113.kg) making him the most athletic and skillful basketball player ever seen. This year, he added new elements to his game as he significanly improved his jump shot to be come even more impossible to guard for defenders in the league. He is now able to score 3-pointers from anywhere on the court, including from half court:
Now LeBorn is taking his game to even further heights in the Playoffs as all his stats are up. During the 1st series against Chicago he averaged 31.8 PPG, 9.2 RPG and 8.2 APG! It certainly looks like LeBron is well on his way towards his first NBA Championship. That's his 7th season in the NBA and an interesting fact is that Michael Jordan also won his first NBA title in his 7th season.