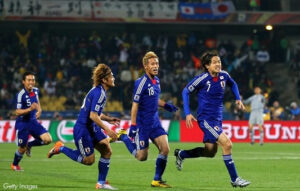 The Samurais from the Land of the Rising Sun will be fighting for the pride of whole Asia against Paraguay. Everything is at stake in this game so it's certainly not an easy task to give an accurate Paraguay vs Japan prediction. Up for grasp is a place in the quarter finals in a match against the winner between Spain and Portugal.
The way the Samurais won their game against Denmark, where a draw would have been enough, was quite a statement to the whole footballing world. They played attacking football, rather than sitting scared at the back playing a waiting game. Another strong side about them is the way they take advantage of set pieces, especially direct free kicks as 2 of their 3 goals against Denmark came like that. Honda is turning into one of the discoveries of the tournament.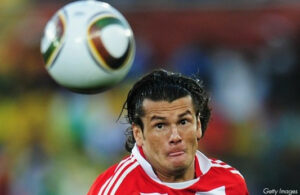 Paraguay has been one of the solid sides in the tournament thus far. They are very explosive, like all the Latino teams in South Africa, and have a stable defensive line that has only let 1 goal so far in the tournament. Up front goals are almost guaranteed with top class players in the likes of Roque Santa Cruz and Valdez who is coming from a thrilling season at Borussia Dortmund. In midfield, Vera has been super impressive so far in the tournament and if he keeps his game up, he will be set for a big transfer in the summer. Santana and Barios are also quality players that are real factors in a top Paraguay vs Japan Prediction.
However, Japan are a team on a mission in South Africa. Prior the tournament, their head coach Okada said their goal is to reach the Semi Finals, which is in fact an over-statement, but as we all know, it's better to set much higher goals and get close as possible to realizing them. Japan has been one of the surprise so far in the 2010 World Cup, although the real betting experts expected that all along. They are a very well organized side where everyone has squashed their own ego and plays for the good of the whole group. There are no individuals in the Japanese side, it's all in serve of the team. And this in fact has always been a traditional characteristic for Japanese people in general and is right now being used as a key weapon in South Africa.
The key to the Paraguay vs Japan Prediction is the fact that Japan will be out there defending the pride of whole Asia. And it's not just pride involved there, but a lot of money and public interest as well. Just think of all the Asian fans out there who are keen on having at least team representing them at the World Cup in the last 8! That's why we favor Japan to produce another shock here and go through. The odds for Japan to qualify are 2,40!
Paraguay vs Japan Prediction: We expect a well balanced game that will most likely be decided in Extra Time. Bet on Draw in regular time at 3,20. Both teams will score in this game so betting on Goal/Goal at 2,00 is also a good soccer pick. In  terms of who will go through, BetOnWins favors Japan.