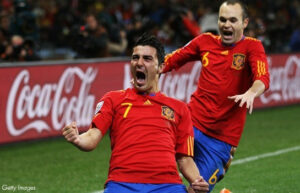 The last quarter final of the 2010 features Paraguay vs Spain in a match that will decide who will go up against the mighty Germans in the Semi. Tonight we are about to watch an interesting clash of styles as the fast paced Paraguay side that likes to counter attack will take on a Spanish team that loves to keep possession of the ball and attack gradually.
There is little doubt that in terms of quality, Spain is the way better side, but as we have seen in South Africa so far, the better team is not always bound to win. The South American giants Brazil and Argentina who were tipped by sports betting experts as the main favorites to win the Cup, are now both out of the competition losing to European oppositions. Well, we now we are about to watch a similar scenario and the outcome will most likely be the same, as the Spaniards are just too strong for Paraguay to hold them. Our Paraguay vs Spain prediction is for the European Champions to qualify which bookies rate at 1,25, while a qualification for the Guarani pays off at 5.50!
Spain is gradually picking up their game and they got perhaps the best midfield in the entire World right now. Their attacks are orchestrated by Barca prodigies Iniesta, Xavi and Fabregas, while Xavi Alonso is also having decent games winning the ball in defense and setting up counterattacks with some excellent long passes and through balls. At the back, the Iberians are also super solid with one of the best center back pairs – Puyol and  Pigue. Cassilas is also enjoying a good tournament without any major mistakes so far.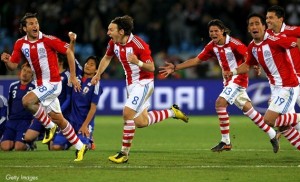 So it's all looking good for Spain, but we can't write off Paraguay. They are a strong team that also has luck on their side as they eliminated Japan on penalties. Their main stars are Roque Santa Cruz, Nelson Valdez and Oscar Cardozo. All three of them are forwards and play for major European clubs, with Cardozo even becoming a champion with Benfica. So with so much power up front, the Guarani should be able to score at least one goal tonight, which is why one of the top football predictions for this match is to bet on Both Teams to Score at 2,50!
What has to be underlined is that Spain has gone without a draw for over 2 years now! That's a really weird statistic which should certainly be taken into account in such sports predictions. Considering how dangerous the South American side is, it won't be a big surprise to see this game going into Extra Time. The top betting pick for this game is to bet on Draw in regular time at 4,20!
But if the game does go into additional 30 minutes, Spain should capitalize on their superiority so a very wise soccer prediction here is to back them winning in Extra Time at 10,00! So if you bet 10$, you will get a hundred.
In terms of goal scorers, of course David Villa is the main suspect, but the online bookies are now well aware of him so the odds for Barca's latest signing scoring at Any Time are just 1,83! The big value is betting on Villa to score 1st which is rated at 4,00!
Paraguay vs Spain Prediction: Bet On Draw in Regular Time at 4,20! The best pick though is to bet on Spain to win in Extra Time at 10,00!