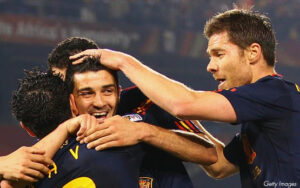 It's the derby of Iberia as neighbors Spain and Portugal go head to head against each other for a place in the last 8 of the 2010 World Cup. The safest Spain vs Portugal Prediction is that billions of football fans from all over the world will get to see some of the best players right now producing some marvelous plays and shape up a drama that will probably be remembered for a long time. Green Point Stadium is the venue of this spectacular event.
The only downside of a game from this scale is that one great team will exit the tournament tonight. Either we will no longer see Cristiano Ronaldo in South Africa, or one of the biggest favorites to win the Mondial will leave in the first round of the knockouts. Whatever happens, it's a pity that one of these two teams has to leave so early.
An interesting fact about this Spain vs Portugal Prediction is that these two teams are currently placed 2nd and 3rd in the FIFA World Ranking, respectively. Spain entered the competition as one of the hot favorites but their ambitions got a harsh reality check in the opening loss against Switzerland. Then came the unconvincing 2-0 win against Honduras. Vicente del Bosque's team won their last group game with Chile 2-1 to clinch the first spot.
What's certain about Spain is that they are yet to produce their top football at the Mondial, but it's also true they've been slowly picking up their pace. You can tell that in the last game they played against Chile, Spain really took their foot from the gas pedal in the second half and basically stopped playing. Right after they took the 2-0 lead, they decided to hide their true identity and just play a waiting game until the final whistle. So there is a lot of room for improvement in the Spanish squad which is a good thing for them as they can only go up from now on.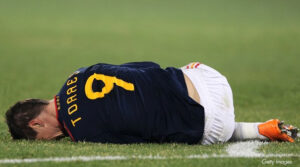 However, at the basis of this Spain vs Portugal Prediction are the performances of Ronaldo and Torres. Torres has been in tragical form so far. His confidence is missing, his run is not there, his predatory instincts seem distorted. The Liverpool forward has not been himself in South Africa and certainly has to start delivering the good if his nation wants the gold medals in 2010. A lot of betting experts are point out the injury he carried into the pre-World Cup training camp, but even so, he should still get his act together and start scoring. The odds for Torres to finally open his scoring account are2,87 at Any Time. In other words, it doesn't matter whether he scores the 1st, 2nd or last goal in the game as long as he scores.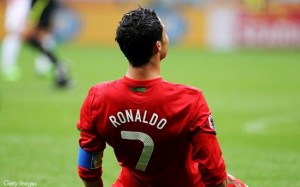 Another huge factor in the best Spain vs Portugal prediction is of course Ronaldo and how he will play. Ronaldo has been looking super selfish so far, always looking to shoot from anywhere on the pitch rather than try to exchange passes with his teammates. It was exactly this type of selfishness and egoism from Cristiano that cost Manchester United the 2009 Champions League Final against Barcelona. He might be the most gifted and most skillful player in the world, but he can't bring glory to Portugal by playing by himself. He has to trust his teammates more and start sharing the ball.
Spain vs Portugal Prediction:Both teams to score in regular time is our pick for this game and online betting companies offer 2,10 for it. In terms of end result, we expect a Draw with Spain qualifying in Extra Time!