Our top football predictions for today can help you make a lot of money by betting on them at one of the major online bookmakers like bwin. Our daily football predictions are pure gold as our level of sports pick accuracy is quite high as you can check by looking at the Today's Picks section. Few websites offer that much insider type of info and on-point sports analysis as we do, but let's cut to the chase.
This site is made for sports fans who besides having fun watching the games, like to occasionally place a bet here and there to make things even more interesting. Well, that's perfectly normal but the problem is that we are currently going through those rough days of the summer where players and teams are having a break between the World Cup and the start of the domestic leagues. However, there are parts of the world like South America and Brazil in particular where the football fiesta is in full swing. That's why we have focused our attention there and our top football predictions for today come from the Campeonato Brasileiro.
Atletico PR v Santos Prediction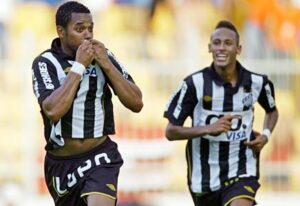 9 rounds have passed by in the Brasilero Seria A 2010 with Corinthians leading the way without a defeat (6 wins and 3 draws). Atletico PR have been one of the weakest teams in the league so far and that's why we favor the visitors in this Brasilero prediction. Atletico PR have lost 6 times out of 9, while Santos have quite magical numbers – 3 wins, 3 draws and 3 defeats.
Santos are the superior team with the far better individual talents in their squad. Of course we are talking about Robinho and their other striker Neymar who has already attracted the interest of the top European sides including Chelsea.
Atletico PR v Santos Prediction: Bet On Santos To Win! Pele's team lost their last two matches (against strong sides Fluminense and Palmeiras) so tonight they will be looking to make up for some of that lost ground by grabbing all three points against a shaky Atletico team. The odds on Santos to win are 2,10!

Sao Paulo v Gremio Prudente Prediction
Another one of our top football predictions for today and it features Sao Paolo hosting Gremio Prudente. Sao Paolo have been one of the most successful clubs in Brazil in recent years and they still have a core of great players capable of winning most games in the Campeonato. However, things look a bit weird for them right now as they are actually behind today's opponents with a single point.
Gremio Prudente are 12th with 12 points while Sao Paolo are 13th having collected just 11 points from a total of 9 matches so far. That's certainly not a good period for the capital side and they will want to bounce back tonight. That's why a home win here is one of the our best football predictions for today, the 21st of July 2010.
Sao Paulo v Gremio Prudente Prediction: Bet On Sao Paolo To Win! The bookies expect this one as well so the odds are not that great but still at 1,45 Sao Paolo can bring you some money and you can even combine with a win on Santos to cash in more money.