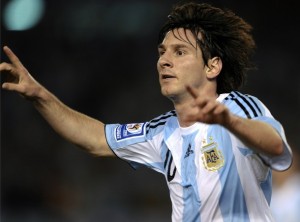 The 2010 World Cup is getting more intense with each game passing by. One of the biggest games in the 1st round is Argentina vs Nigeria in what should be the decided of who wins Group B. Of course, everyone favors Argentina to win not just their group but the entire World Cup. However, accomplishing these goals on the pitch is a hard task and Diego Maradona's men will not have an easy ride against one of the most dangerous African sides ever.
This whole Group B looks remarkably similar to the a group at the 1994 World Cup in USA where Argentina were drawn together again with Greece and Nigeria, but the fourth team back then was Bulgaria which went on to reach the semi finals. Diego Maradona actually played his last World Cup then as he was banned for illegal substances right after the opener.
These things belong the past now so let's switch to the reality for a moment now. We are talking about the most profitable and accurate Argentina vs Nigeria prediction. There is little need to start analyzing Argentina's impressive squad, we have already had this covered. You can read this article here. We are way too familiar with Messi's genius, Tevez's hard work ethic and aggressiveness and of course Diego Milito's ice-berg cold finishes.
But if you take a deeper look into Argentina, you will see they have a lot of problems of their own and they are mostly in the defensive department. Their goalkeeper is not amongst the very best in the world, like Brazil, Italy, or Spain. Their left and right backs are not exactly globally respected either. In fact, Maradona's first team choice Jonas Gutierez is playing for an English second grade side, even if it's called Newcastle. Riquelme is not part of the squad because of personal problems with Maradona, while Veron who is over 35 years old is a regular starter. Cambiasso who is better than Mascherano right now and won a treble with Inter, also wasn't called up.
Argentina is yet to show their fans a real style of play. They haven't really found themselves in footballing terms whereas teams like Brazil and Spain have a face and certain way of playing. The Gauchos are yet to show us their real way of playing and show us a mater style that can win a World Cup.
Against Nigeria, they will be facing a very tricky opponent that will be better suited and accustomed to the conditions in South Africa. The Nigerians are physically strong, skilled with the ball, have a number of super talented individuals like Utaka, Martins, and Yakubu. Their defense is solid consisting of Yobo (Everton), Taiwo (OM), Danny Shittu, Dele Adelye. Midfield comprises of Uche, Etuhu, Haruna and Ayila.
It's Nigeria's offense that will cause the South Americans a great deal of trouble. We are talking about Oba Martinz, John Utaka, Odemwingie, Obinna, and Yakubu. So 5 really good attackers that should help Nigeria score in every single one of their matches this World Cup.
Argentina vs Nigeria Prediction: Bet On Both Teams to Score, aka Goal/Goal. Both teams have great attackers while their defensive lines are shaky so we predict a lot of goals in this game too, over 2,5 and goal/goal.
Pick Both Teams to Score @ 1,90