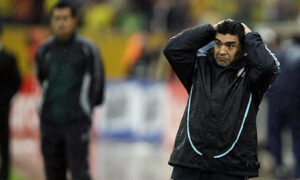 Diego Maradona has the chance of getting a personal revenge today as you will learn from our Argentina vs South Korea prediction. It's two former players going against each other once again, but as head coaches this time around. Coach of South Korea is Hu Yun Mo who actually had to personally defend Don Diego during a match from the 1986 World Cup.
This particular match ended 3:1 for the South Americans although their number 10 was getting a lot of harsh tackles and interventions from the Asian opponents. However, history won't repeat itself again according to our Argentina vs South Korea prediction.
South Korea proved in their win against Greece to be a superbly organized and dedicated squad of skillful and quick player who move together as a unit and always look dangerous on the break. Counterattacks will be the main threat for Argentina and given how unstable their defense is, it won't be a surprising to see Both Teams to Score in this game. In fact, Goal/Goal is one of our Argentina vs South Korea betting picks.
Of course, the big question most people all over the world are wondering right now is who is how many goals will Messing score in this game with all eyes being focused on the little, crafty player. Carrying such a heavy cross is not an easy job for anyone, even if he is called Leonel Messi. You could tell in the first game against Nigeria he was a bit nervous and wasn't calm and cold-blooded enough in front of goal with the finishing touch on the line.
It won't be an easy game for Argentina as bookies expect. The odd for them to win are just 1,5 and definitely ain't worth it. The best bet here is to go First half/End Result Draw/Argentina as the odds for that are over 4,00. One of our Argentina vs South Korea predictions is for a goalless draw at half time, but the South Americans should be able to get the job done in the second half.
Argentina vs South Korea Prediction: Bet On Draw/Argentina @ 4,00