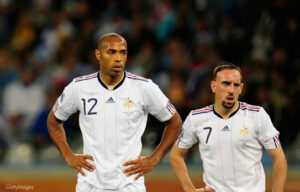 With both teams drawing their first game in this Group A, France and Mexico now have the chance to take a big step towards the next phase by beating their direct opponent. Uruguay already won against the hosts and with 4 points from 2 games, they look almost certain to qualify for the knockouts. So who will win between France and Mexico?
BetOnWins has already reviewed this French squad, but let's just sum up their big problems. France shouldn't have been in this World Cup in the first place, because of Henry's hand (not once but twice) in the crucial match against Ireland. Raymond Domenech is perhaps the most hated person in France and the people there have every reason to feel that way. Good news for them is that he is leaving after the tournament and Loran Blan is set to replace him. One of Domenech's biggest mistakes is not calling up Karim Benzema!
Basically, the French are having a really poor national side at the moment despite there are several world class players. You can tell something is wrong with them just by watching how they play. They even lost their last WC warm-up match against China. Then they posted a goalless draw against Uruguay so they certainly have difficulties on the creative side of things. This is by far one of the worst national sides France has ever had and you will see just why once the World Cup kicks off.
The key to our France vs Mexico prediction is the form of the team that's labeled as away here. Mexico are a very dangerous team as they have a squad full of young talents that will be eager to impress at such a big stage as the Wembley Stadium and of course an opponent from England's caliber. We are talking about top players who play in the Premier League like Carlos Vela (Arsenal), Giovani dos Santos (Tottenham) and Guillermo Franco (West Ham). They will also be powered by Guardado, Medina, Blanco, Osorio and Hernandez. Javier Hernandez was actually signed a couple of months ago by Sir Alex Ferguson for Manchester United.
France vs Mexico Prediction: Our France vs Mexico prediction is for a Draw with all four nations remaining with realistic chances of qualifying into the last round of the group stage. France are perhaps the slightly better team, at least on paper they should be, but whether they win or not is an entirely different matter. Practice is often quite different from the theory and a lot of people who like to back the favorites to win will learn that tonight.