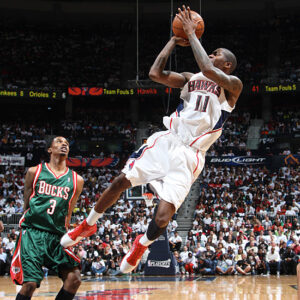 Scott Cunningham/NBAE/Getty Images
BetOnWins continues hitting you with accurate and free NBA predictions and when it comes to the Playoffs, you know we have got the best betting picks for you. It's Game 6 of the 1st round series between Milwaukee Bucks and Atlanta Hawks, and quite surprisingly the Bucks lead the way with 3-2 wins and are now just one way away from reaching the second round.
Hawks are one of the most exciting young teams in the NBA with top notch players in the likes of Joe Johnson, Best Sixth Man Jamal Crawford, Josh Smith, Mike Bibby, Marvin Williams, Al Horford, and Zaza Pachulia. They have got a great roster and a good coach, but it seems like they have got some locker-room issues and at times you get the feeling these guys don't trust each other. That's a problem they must overcome tonight and share the basketball if they want to win this game and force a crucial Game 7 at their house in Atlanta. Getting eliminated 4-2 in the first round for an outsider team like the Bucks who are playing without their main star Andre Bogut, would be a huge disappointment for the Hawks and all their fans.
Initially in those series, no one expected the Bucks to take a 3-2 lead but now it's the first time when they will have the monkey on their back. It's they first game in which they will be considered the favorites and all those expectations from their home fans will put them in a position they've never been before. It's not going to be easy for them especially against a talented team as the Hawks who are in a must-win situation. Check out the official Game 6 Lookahead by NBA.com:
BetOnWins NBA Pick: Bet On the Hawks to Win on Money Line!