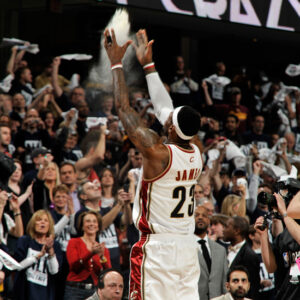 The NBA Easter Conference Semifinals are starting tonight with one of the biggest derbies in recent years featuring the Boston Celtics and Cleveland Cavaliers. Both teams have proven to be almost unbeatable at their own court in the NBA Playoffs as Celtics have own 12 of their last 25 while the Cavs are 14 out of 16.
It will certainly be a very even series as the two sides have exceptional quality in their ranks. LeBron James and Co are on a mission to win their first NBA title but to achieve that they will have to beat an experienced Celtics team consisting of big game players in the likes of Kevin Garnett, Ray Allen and Paul Pierce.
However, don't expect this to be an eye-pleasing series in a purely basketball sense as both teams tend to go really hard against each other in defense averaging about 180-190 points between them. We will certainly lots of pushing, elbowing, and shoving.
Shaq has been very effective against Celtics in the last two years averaging about 12 points and 9 rebounds in nearly 60% shooting. It will certainly be a huge boost for the Cavs if he has a good game tonight.
Game 1 promises to be very even and although the Cavs will definitely  proceed in the next round, don't expect them to win this home game easily. LeBron is having some issues with his right elbow which could hinger his shooting percentage from distance.
Here is the official Series Preview from NBA.com:

BetOnWins NBA Betting Tips: Expect this to be a very tight that will be decided in the last minutes of the 4rth quarter. There is tremendous value in betting on the Celtics to Win Game 1 on Money Line as bet365 offers 3.80, while a Win for the Cavs is rated at 1.27. Considering how low the odds are for a Cavs win tonight, it's not really a good idea to lay money on them. If you are a Cavs fan and want to bet on them, then the most valuable NBA betting tip in this case is to bet on Celtics to lead at Half Time and Cavs to win at the end (Double Result type of bet: Celtics/Cavs). Still, it looks like the most reasonable choice here is to pick the +7.0 points hendicap on the Celtics because they are a Playoff team with loads of experience in their ranks and certainly won't go down easy tonight. As a matter of fact, they just might pull of a surprise here and go on to Win Game 1!