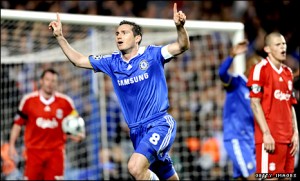 This is game is shaping up to be the real Title decider in the English Premier League and with the whole world about to watch it on the 2nd of May, the main question is how will it end? BetOnWins answers this question with a complete betting guide for this game featuring the best possible betting tips and advices for this particular match.
There are just two rounds left to go in the EPL, but considering that in the last round Chelsea hosts Wigan while Manchester United hosts Stoke City, it's the upcoming round that will decide the faith of the title. The title is Chelsea's to lose. If they manage to win both games they will be crowned champions. But the biggest obstacle towards achieving this long awaited goal is Liverpool. What's really ironic is that Liverpool could indeed help their biggest rivals Man Utd by making Chelsea drop some points here. Liverpool have goals of their own to chase as they are still in the fight for the 4rd spot although it's seem highly unlikely they will get it.
In an interview for Daily Star, Wayne Rooney went on to say that he believes Liverpool will be fully dedicated to winning this game and there was no point in him calling Steve G to ask for help: "I don't think Liverpool would throw the game in any way. They are fighting to get into Europe and with the history behind the club, I am sure they are all determined. It is the last home game of the season. You see what a good player he is, even in friendly games he wants to win, and I am sure he will want to win this one."
But on the other hand, Liverpool and Man Utd are now tied each club having won 17 Premier League titles and it will be quite ironic to see Liverpool helping their main rivals surpass them in being the most successful English club of all time. And to have that happen in front of their own fans, that would be a shocker! Deep down in their hearts, the LFC players know they are out of the 4rd spot and they won't be playing Champions League football next year. They got eliminated from the Europa League last night and they must be feeling really depressed about it and with their entire season. On top of that Fernando Torres is missing. And now, to see Liverpool helping crown Man Utd it would be a really big bill for their fans to swallow.
Chelsea will be totally fired up for this contest and they played some really good and productive football against Stoke City in their last match as they won by 7-0! But what happens quite often after such big wins is that they same team goes ahead to concede the first goal in the next match. So one of our betting tips for this football game is to bet on Liverpool to score first!
However, Chelsea are definitely the better side right now so they will get back in the game and most likely win it at the end. Thus, our next expert betting tip is to bet on Chelsea Win After Going Down or Liverpool/Chelsea as a First Half/Full Time Bet which is available at odds of 29.00!
BetOnWins Picks: It's one of the biggest games in the season, the ultimate title decider so it's good to cover this game in various different ways. If you are looking for a sure bet – lay money on Goal/Goal! If you are looking for big odds then lay some cash on Liverpool/Chelsea at First Half/Full Time. Another valuable variant is to bet directly on Chelsea for the Win, and the odds for that are not bad at all at 1.9! Bet On Chelsea to Win!