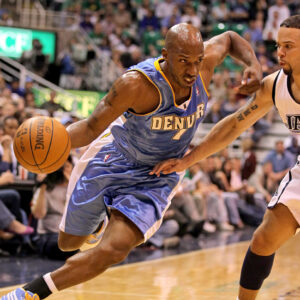 The Denver Nuggets are on the verge of getting eliminated in the very 1st round of this year's NBA Playoffs. They are currently 3-1 down in the series against Utah so a defeat tonight will send Carmelo Anthony and Co packing. Such an outcome though is not what BetOnWins expects. The Nuggets will be desperate for a win in front of their home crowd here at the Pepsi Center and considering the players in their squad, they should be able to make it and stay in the series.
Carmelo Anthony has been the Nuggets leading scorer over the past several seasons and it's his performance that usually dictates how the entire team looks and plays. If he does have a good night, he will score over 32.5 points so it's a good idea to bet on Anthony to score over 32.5 points which is offered by bwin at odds of 1.90. Chauncey Billups is of course another major factor for the Nuggets with the assists he makes and he basically sets the tone for the whole team. Expect Billups to have a solid game as well. A lot will also depend on J.R. Smith who is one truly gifted player able to score 3 pointers at any time as well as cut to the basket.
Perhaps the main reason as to why the Nuggets have been going through such a slump recently is down to the health issues of head coach George Karl who as you probably know is currently undergoing chemotherapy to threat his throat cancer. This is something that definitely has a depressing effect on his entire team.
The Jazz on the other hand have been in fine form in the past several weeks lead by Derron Williams and Carlos Boozer. They will make the Nuggets work hard for their victory tonight so don't expect an easy win for the home side. Here is the official NBA Game 5 Preview:
BetOnWins Prediction: The Nuggets will surely win this game as they will fight hard to stay in the series in front of their own supporters.