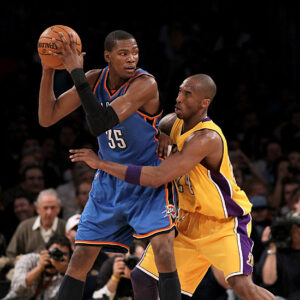 It's going to be a historic match in Oklahoma City tonight as the home team is looking for their FIRST EVER PLAYOFF WIN since the franchise moved to Oklahoma from Seattle. The OKCs lost the 1st game with just an 8 point difference even though star player Kevin Durant had a terrible game. In the 2nd game of the series, Durant was better and scored a total of 39 points and OKC lost in the dying seconds of the game which ended 95-92. They missed two 3-pointers at the end which could have brought the game to extra time.
Now, our free NBA pick for the day is to look for an Oklahoma win as it will be their 3rd attempt to win against the Lakers so it might be a lucky omen for them. They are a young, hungry team and they will receive tremendous amount of support from the stands which should breath in even more energy into their already fast and furious lineup filled with young talent. Kevin Durant won this year's scoring title averaging more points per game than LeBron James himself. He is supported by one of the most exciting point guards in the league, Russel Westbrook who files up and down the court like a flash. Jeff Green is another star man for OKC.
BetOnWins NBA Pick: OKC Thunder to WIN Game 3 vs the Lakers on Money Line!
Outcome: Another Winning Pick from the NBA brought to you by BetOnWins: